Put into practice what was preached during National Prayer Day
EDITORIAL
By Editorial | May 28th 2021 | 2 min read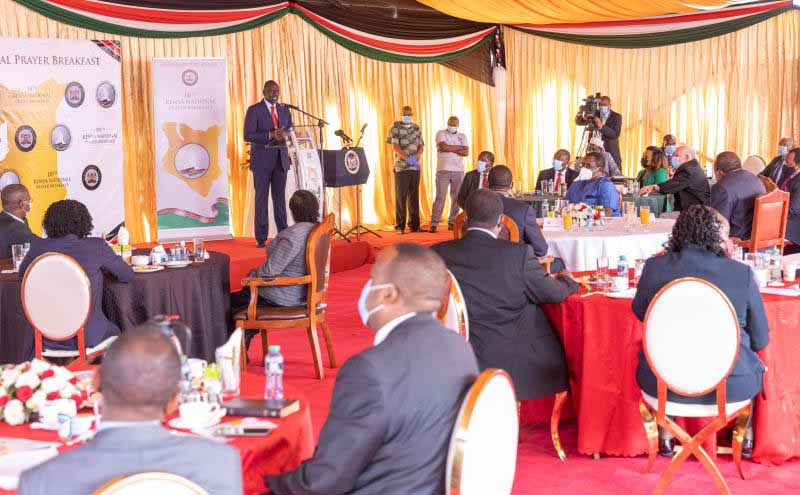 The 18th National Prayer Day was marked yesterday at Parliament Buildings.
President Uhuru Kenyatta, Deputy President William Ruto, opposition leaders, envoys and other invited guests graced the occasion during which leaders took time to reflect on the hits and misses of the previous year.
It has been a difficult year for Kenyans whose lives were thrown into a spin by Covid-19. The negative effects of the pandemic on the economy, brought about by business closures, job losses and restriction of movement in some counties have combined to make the life of an average Kenyan a misery.
That misery has been compounded by political wrangling that has pitted groups of politicians against each other in a supremacy contest that leaves ordinary citizens poorer for lack of purposeful leadership.
Speakers during the National Prayer Day exhorted leaders to bury their differences and work together for the benefit of all Kenyans who need such leadership now more than at any other time. In May 2014 during a similar function, the president and his deputy emphasised peace and national unity as prerequisites for moving the country forward.
They gave Kenyans the assurance that they would fight corruption, tribalism and nepotism, yet seven years later, these vices are still holding Kenya to ransom. More depressing, however, is the fact that the president and his deputy seem to be pulling in different directions, which doesn't help in building national cohesion.
We are headed to an election year and leaders must take us into that crucial period as a united nation. We cannot afford to relive the bad experience of 2007 and 2008 when Kenyans rose against each other at the instigation of some leaders.
The president's call on Speakers of the National Assembly and Senate to hasten passage of legislation on healthcare couldn't have come at a more opportune time. Covid-19 has exposed the gaping holes in our healthcare system that must be plugged. Access to quality healthcare for all Kenyans must be prioritised.
Importantly, as the president said, leaders must give citizens hope by committing to work together. Indeed, he urged leaders to put into practice what was preached during the prayer day; that they must not forget the lessons the following day and revert to their belligerence that threaten efforts towards national cohesion.
Our leaders did well to pray for the nation. But that is not enough. They must act decisively to root out the ills that beset our nation. In any case, the Bible exhorts that prayer without works is dead.