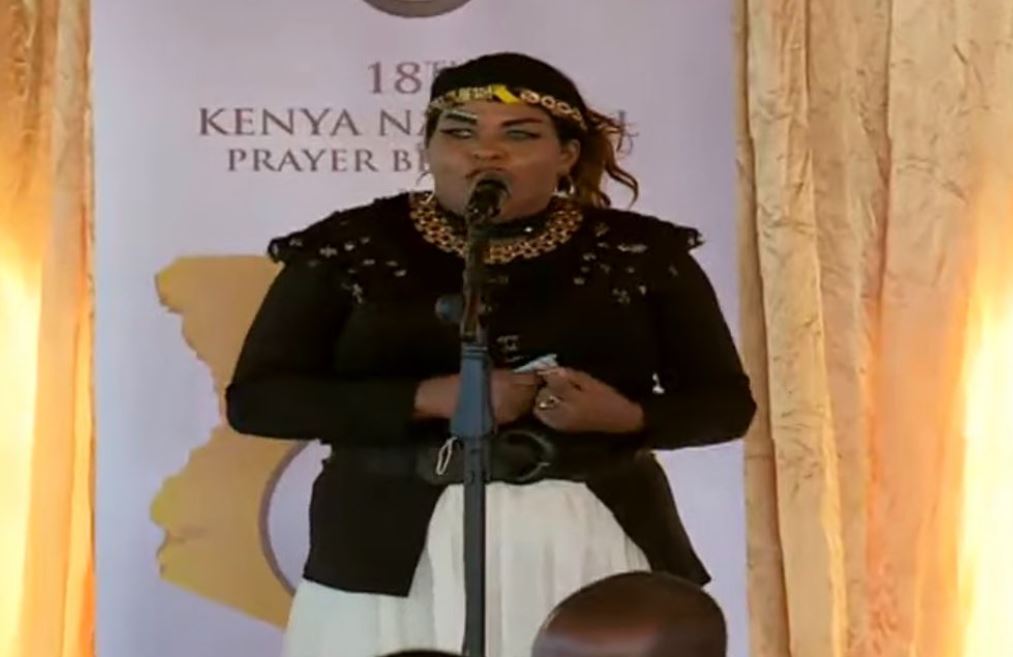 Celebrated music performer, composer and voice coach Hellen Mtawali lit up the National Prayer Day with renditions of popular gospel hymns, setting up a humour and reconciliatory tone that dominated the annual celebration.
Fusing talent and humour during the breakfast ceremony held at Parliament grounds yesterday, the multi-talented star belted to Mercy Chinwo's Excess Love and popular church hymns Cha kutumaini Sina and How Great Thou Art among others.
The melodies were woven around a message of hope that captured the theme of the day, 'A Hopeful Future'. 
"If his excellency the President is joining me in doing this, why not you," challenged Mtawali, getting those in attendance to join her in chorus. 
Unlike previous years when legislators led choirs and other entertainers in offering light moments during the ceremony, limited performance was allowed, with social distancing and other health measures being observed due to the Covid-19 pandemic.
Busia Senator Amos Wako moved the guests with an emotional testimony on how he survived Covid-19 after he was admitted in hospital for three weeks.
"I had tried everything…even the popular dawa. I ignored the loss of appetite, attributing it to bad cooking. I even told my cook that his cooking standards had gone down," Wako said, revealing how his son finally forced him to check himself into Nairobi Hospital, where he was diagnosed with Covid-19.
The senator decried the high cost of medical facilities in the country, saying hospitals were admitting Covid-19 patients for as much as Sh300,000, an amount many Kenyans can't afford.
Now in its 18th year, the annual National Prayer Day brings together political and religious leaders from different faiths as well as representatives from different government and corporate sectors.
The ceremony brought together President Uhuru Kenyatta and Deputy President William Ruto, who have not been seen together in a public function in a long time. The two shared a table and evoked memories of their trademark inauguration images in white shirts and red ties.
As he welcomed the President, Ruto spoke passionately on how God provides hope, giving an analogy of the Biblical story of the wedding at Cana in Galilee.
"It has been two years since we met at the prayer breakfast, and in the two years so much has happened. We have had the world and Kenya thrown into a spin because of the corona pandemic. Livelihoods, businesses, enterprises and people have suffered immensely. Churches, mosques and schools have been closed, and many other places. And it has not been fashionable not to go to work, but to stay at home, but that became our lot," said Ruto.    
He added: "We have also had positive things. Courtesy of this administration, the President launched the Lamu Port, and we got ourselves a brand new Chief Justice, the first lady ever in Kenya to be Chief Justice. And also our Speaker got an appointment with the elders, and I think it serves him right. After being a Speaker for so long maybe it's time to be a spokesperson."
Wiper leader Kalonzo Musyoka and his Amani National Congress counterpart Musalia Mudavadi led the political class. The ceremony, chaired by Senate Majority Leader Samuel Poghisio with assistance from Makueni MP Daniel Maanzo, was also attended by Chief Justice Martha Koome, Chief Administrative Secretary, Ministry of Health Dr Mercy Mwangangi, Senate Speaker Kenneth Lusaka and Judiciary Chief Registrar Anne Amadi, among others.
Making the keynote speech, Commercial Lawyer Peter Waiyaki outlined tribalism and corruption as vises that have hindered the government's development agenda as poverty continues to ravage majority of Kenyans.   
"Corruption has become a highlight participatory activity in Kenya. We have perfected the art of deflation, where anyone caught in corruption has someone to blame," he said.