Let's be sincere for a minute - there is more to Justice Martha Koome than her gender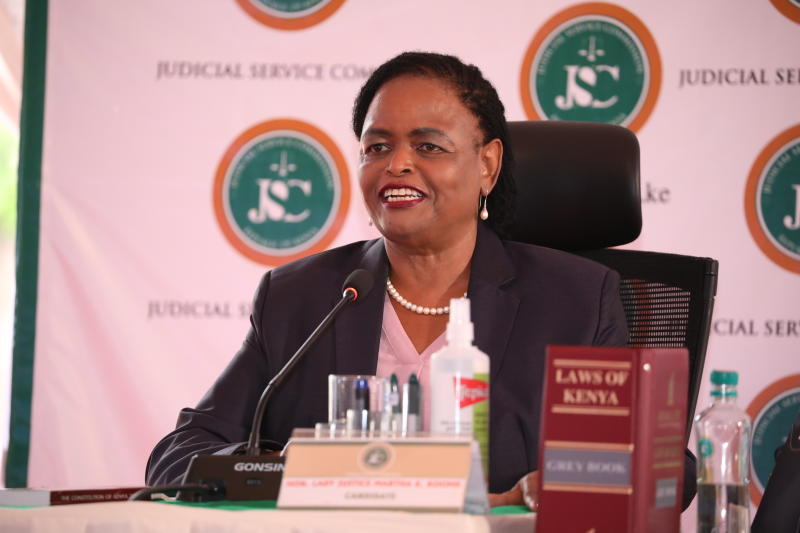 Once again, like most times when a woman is elevated to a top public post, a gender debate has ensued.
It is the biggest conversation of the moment that has brought with it its usual ugly connotations.
Once again, we realise that even though we boast of making major strides in gender mainstreaming, the realities on the ground, and especially when it comes to perception, are quite different. This a battle we are far off from winning.
The unexpected press briefing by the Judicial Service Commission on Tuesday afternoon stopped everything for a moment.
A short and succinct statement read by the Acting Chairperson of the commission Olive Mugenda announcing that the nine commissioners had unanimously settled on Lady Justice Martha Koome as their nominee for the position of Chief Justice consequently sparking a lot of reaction from Kenyans. Social media was awash with messages. Some Kenyans are convinced that there were far much better candidates for the job.
The public had the opportunity to follow live the grueling interviewing and decide for themselves who they thought was best cut out for the job. One by one, for two weeks, the 10 candidates appeared before the commission for at least four hours to prove, not just to the commission, but to the country, why they think they are deserving of the job.
It is here that we all decided on who our favourites, voiced our biases, speculating in our different circles who we thought would emerge top, taking into account other fundamental factors like the current political tone.
However, the debate that worries the most is the notion that the good judge got the job for only one reason - her gender.
Take a quick survey and help us improve our website!
Take a survey
I have seen and heard heated debates from the office right into social media on whether Martha Koome was worth her salt.
This, we can talk over as long as it is on merit.
But what is absurd is the attempt at disparaging her qualifications and experience that she has worked so hard for, and reducing it to a gender debate.
A 33 years' illustrious career that started in the civil society and progressed to the Judiciary is no mean feat. It is said she is considered an iron lady in the corridors of justice. Her soft spot for women and children issues has earned her local and international recognition.
Serving at the High Court and Court of Appeal in different capacities for nearly two decades is proof that she knows her way around the courts and the general justice system. She is no stranger, neither is she here by chance.
A better and sober conversation will be one that does not include snide comments that being a woman was the only advantage she had against the other candidates. She was up against legal giants in the judiciary and outside. Surely, if being a woman was all she was bringing to the table, then would she have been shortlisted in the first place?
We can have this conversation for some time, but while at it, let us recognise efforts that have gone into ensuring women penetrate spaces that for a long time had been seen as a reserve of men.