Why more companies need to support technical colleges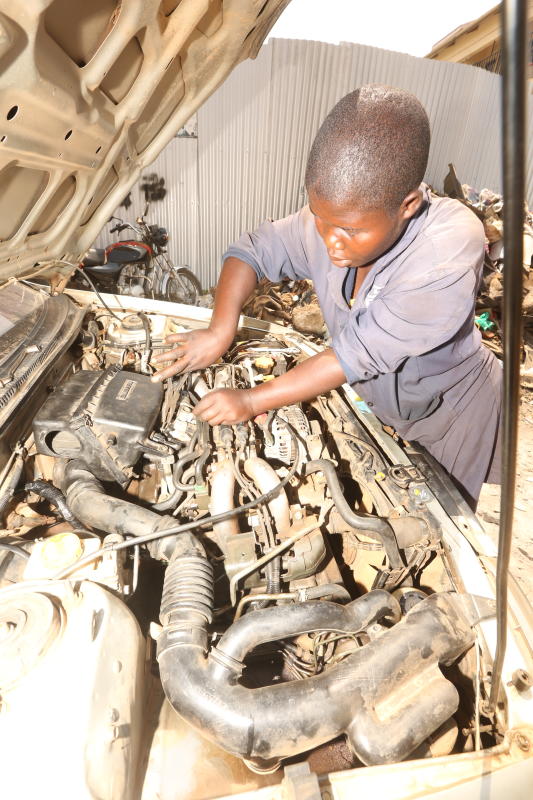 For a long time, Kenya has continued to release thousands of university graduates to the job market with scarce employment opportunities.
According to the released quarterly Labour report by the Kenya National Bureau of Statistics (KNBS), in March 2020 Kenya's unemployment rate stood at 10.4 per cent with the employment to population ratio estimated at 57.7 per cent.
The situation is getting worse as employers have become more selective according to State of Graduate Employability, a report by CPS Research International (May 2020). According to the report, one in every three employers expressed dissatisfaction with the skills and knowledge of hired graduates in the last 12 months.
It is these skills and knowledge gaps that the government sought to address with the Technical and Vocational Education Training (TVET) Act of 2013.
The Act sought to equip the institutions with skilled personnel, and relevant curriculum with the view of addressing the job skills gap and availing more employment opportunities for the youth in line with the needs of our growing economy.
According to the Kenya National Bureau of Statistics (KNBS), student enrollment in TVETs stood at 202,556 in 2016. There still lies a problem of perception and attitude towards such institutions. Unfortunately, a select group in our society still sees the idea of machines, dirty greasy overalls, and smoke-filled factories as not ideal and lucrative as compared to white-collar jobs.
Passing the law and establishing institutions is a good step towards dealing with the unemployment menace, but it is not enough. While we all congratulate the government for the steps taken thus far, I believe that corporates operating in the different sectors of the economy need to collectively step up and demonstrate the value of technical and vocational training.
This can be done primarily by supporting students to enroll in such institutions. For instance, Equity Group Foundation (EGF) has a tailored TVET programme that provides Wings to Fly alumni with scholarships, nurtures their enterprise skills and equips them with life and employability skills.
Take a quick survey and help us improve our website!
Take a survey
To eventually address issues of unemployment and improve graduate employability, more companies need to be aggressively involved in shaping the future of industries by partnering with TVET institutions to develop competency-based curriculums that will be standard across the country as well as offer internship opportunities. This will not only transform lives as is the overall goal for EGF, but will also signify the importance of TVETs.
Lest we forget, these institutions play a vital role in underpinning productivity and driving economic growth anywhere in this world. The TVET system provides greater opportunity for Kenyan youth to obtain relevant hands-on skills leading to gainful employment. The emergence of Covid-19 and operating during the pandemic has not been easy for many firms. I choose to believe that those with a strong and skilled workforce found it easier to adjust compared to those without.
Therefore, whether motivated by profits or productivity, it is my call that every able firm should deliberately support TVET programmes and students as this will secure a skilled workforce that will breathe life into the economy in the near future. We know the skills needed and expected of us. It is our duty to be on the table with TVET institutions and draft the curriculums that will transform the future of work and increase graduate employability rates. Besides, offering financial support to ensure programmes run successfully and all students have an equal learning opportunity is key.
Forming partnerships with like-minded institutions will go a long way in dealing with stereotypes on TVETs. Through such partnerships, we will receive an opportunity to offer career guidance and counselling through insights to the trainees as well as soft skills in the workplace. We can also sensitise the public on the various courses available and the need to pursue Science, Technology, Engineering, Mathematics, Agriculture, and Fisheries courses.
Access to these opportunities and skills is critical for any nation's economic growth and social inclusion. In this case, Equity Group's TVET programme was born out of a bilateral agreement between the governments of Kenya and Germany, where Equity Group Foundation has been identified to administer scholarship funds on behalf of the Ministry of Education and KfW. These funds are directed towards providing Wings to Fly alumni with access to scholarships for training in TVET Institutions.
KfW Development Bank on behalf of the German government works together with various partners to increase youth employment in Kenya by offering scholarships making vocational training more accessible to underprivileged adolescents.