Uhuru has no option but to tighten Covid-19 measures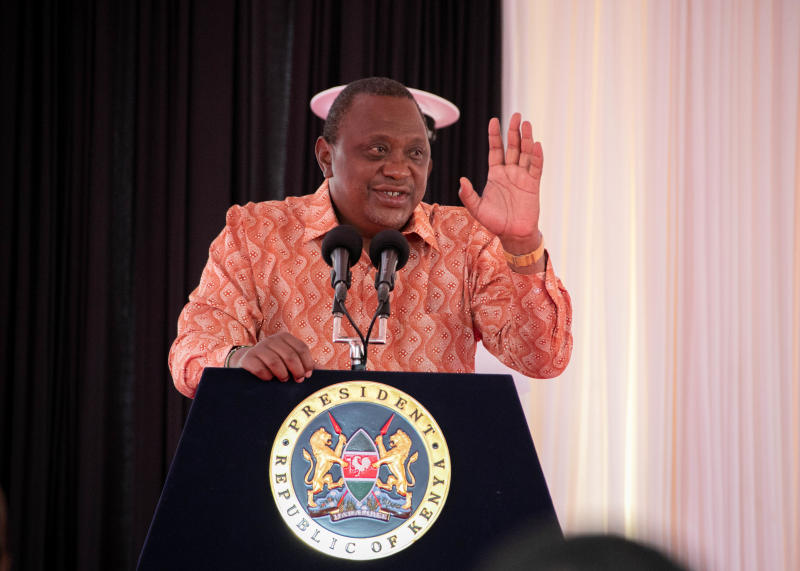 President Uhuru Kenyatta (pictured) will today show us the way forward in the fight against Covid-19.
When the first case of Covid-19 was reported in Kenya in March last year, the government introduced stringent measures aimed at curtailing any possible spread of the coronavirus.
As a first step, all learning institutions were closed and health protocols introduced to keep citizens safe. These included the mandatory wearing of masks in public places, hand-washing, sanitising and keeping social distance.
Additionally, it was necessary for the government to impose lockdowns on towns like Mombasa and Nairobi that, at the time, had started to record high cases of Covid-19. The government also deemed it appropriate to impose curfews whose duration and times have been varied since.
The latest curfew imposed early this year expires today. It remains to be seen whether President Uhuru Kenyatta will accede to the business community's demands to lift the curfew or do what circumstances dictate need to be done.
Indeed, it is not an easy job for the president — to keep the economy running while also ensuring citizens remain safe. The business community, especially bar and hotel owners rightfully say the curfew that begins at 10pm and ends at 4am has killed their businesses.
However, latest reports from the Ministry of Health indicate a spike in Covid-19 infections and mortality rates in the last few weeks. It is quite possible, as experts have warned, that another wave of Covid-19 is underway through community spreading.
Once again, hospitals are jammed full by people suffering from Covid-19 and all Intensive Care Unit facilities are full. That is a cautionary sign that things are bad; that we are not yet out of the woods and must stay vigilant.
In truth, Kenyans are to blame for the current state of affairs, the reason being that they dropped their guard against Covid-19 when fewer cases were reported.
Nowadays, it is rare to find people wearing masks or keeping social distance. Those who wear mask them, do so because they fear the police.
But it is the politicians who should be blamed the most for our present predicament. They have been holding massive rallies and some of them do not bother to wear face masks or remind their audience to take precautions. They have taught Kenyans the bad manners.
So if the president must extend the curfew today, it would be important that he also bans all political gatherings. A night curfew serves no purpose if we allow thousands of people to attend political rallies during the day—the virus will continue with its rampage.