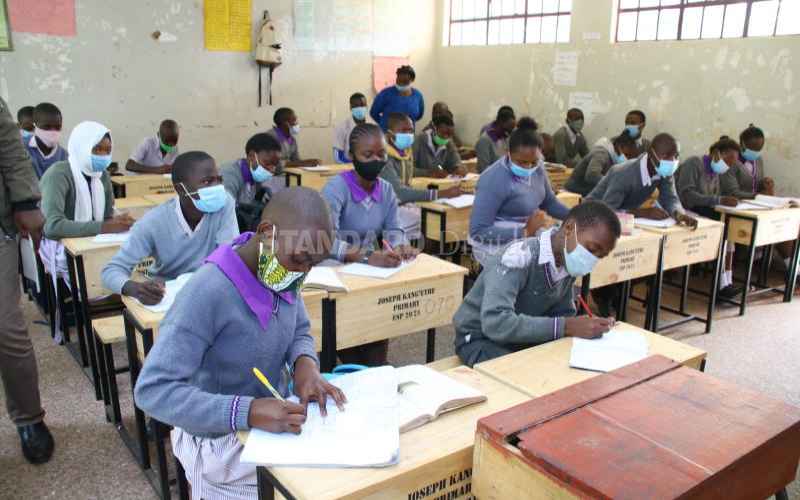 Public and private schools reopened in January this year after 10 months of closure due to the Covid-19 scare. But even after the government stressed that it was ready for the reopening despite fears from some quarters that Covid-19 was still a serious threat, it is now clear that not all logistics had been considered to ensure smooth sailing once learners returned to class.
That is perhaps why the Kenya Certificate of Primary Education (KCPE) and Kenya Certificate of Secondary Education (KCSE) examinations scheduled for next month seem to hang in the balance. According to school principals, the government is yet to release capitation funds. This delay, they say, is affecting timely purchase of examination materials, especially for practical subjects like physics and chemistry, which could affect thousands of Form Four candidates.
That should not happen. These important exams will determine the future of the learners and nothing should be allowed to disrupt them. At least 1.9 million candidates will sit their KCPE and KCSE exams next month. The government should therefore do everything to ensure candidates do not bear any more inconveniences besides those already wrought by Covid-19.
The Ministry of Education released Sh14.6 billion to fund secondary schools and Sh4.6 billion for primary institutions when schools opened in January. Given the circumstances, additional funds should have been set aside and remitted to individual schools to aid the fight against Covid-19 through the purchase of face masks, sanitisers and water containers for regular hand washing.
Besides, though the government was acutely aware of the need to expand infrastructure to accommodate social distancing in the classroom, it is doubtful that it has constructed additional classes in public schools, and the reason could simply be that the Treasury doesn't have enough funds. The slump in the economy due to Covid-19 restrictions affected the government's ability to collect taxes and earn foreign exchange from exports.
Read More
This is not to say, however, that the government should shirk its responsibilities to learners. Coronavirus might have caused a lot of disruptions, but a prudent government should have the ability to make adjustments here and there on a priority basis. It behooves the government to overreach itself in ensuring the critical education sector does not suffer more setbacks.