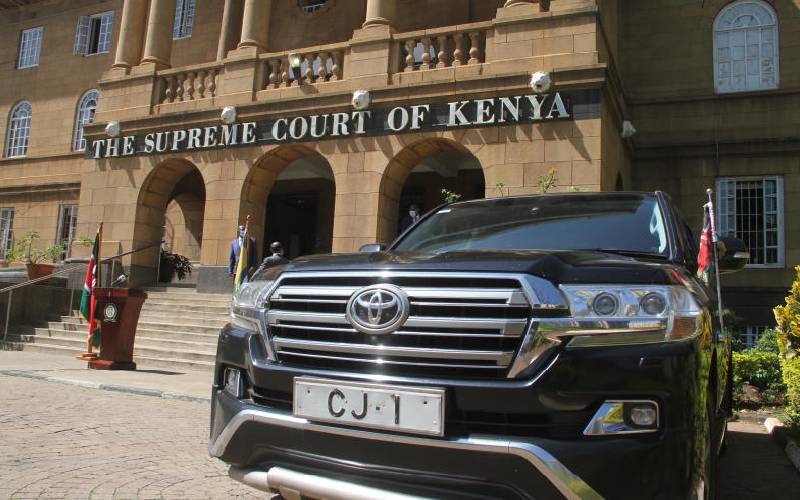 Last Wednesday, the Judiciary invited applications for the position of Chief Justice (CJ), which fell vacant following the retirement of Judge David Maraga early this month.
This office is, without doubt, an important one, as it is its holder who superintendents the affairs of the entire Judiciary and ensures that anyone seeking justice in any corner of the country gets it. The CJ is also the president of the Supreme Court, the apex court.
If the good work done by Maraga and his predecessor Willy Mutunga is to continue, we must get an individual of impeccable character; one, who like Caesar's wife, should be above suspicion.
Of course, the task of choosing the next CJ is not for the holloi polloi. It is the mandate of the Judicial Service Commission (JSC), which is now comprised of 10 members following the exit of Justice Maraga.
Read More
These are the men and women who will decide whether Kenya will get a resolute CJ like Maraga, or one who will be swayed by the political winds and other external forces.
There are already fears that sections of the political class might attempt to have their way, by lobbying the JSC, to ensure that whoever takes the baton from Maraga is friendlier to them. That, perhaps, is what prompted ANC Party Leader Musalia Mudavadi to warn politicians against meddling in the affairs of the JSC as it prepares to undertake that important job. Mudavadi's warning is sound and timely.
Indeed, JSC must rebuff any attempts by politicians to interfere with the selection process. If there is a plot to influence their decision and they fall for it, JSC would have thrown the independence of the Judiciary, which Maraga and Mutunga worked hard to build, to the dogs.
For the avoidance of doubt, selection of judges is the sole province of JSC. After the commission makes its choice/s, it forwards the same to the president for appointment.
On the CJ, the commission shortlists and interviews candidates and forwards only one name to the president for appointment.
JSC must therefore ensure that that one name they will send to the president is of a person of integrity, who will fight tooth and nail for justice and the independence of the Judiciary. S/he should be a person who will inspire confidence in the public that their cases would be decided with fairness and in accordance with the law. S/he should be a person who hates corruption in all its manifestations. That is the CJ Kenyans want JSC to give them. The ball is now in JSC's court. They must kick it in the right direction.