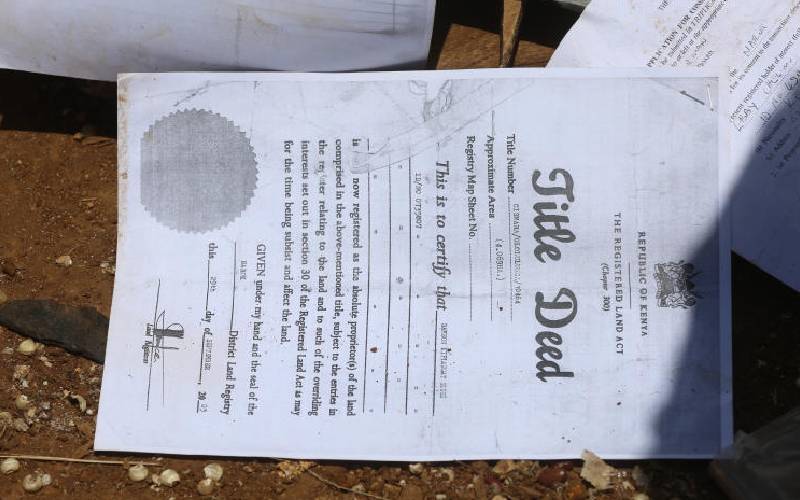 The government has stepped up issuance of title deeds, and this week, Samburu County residents got about 10,000 land ownership documents for a land previously owned under a group ranch. The issuance of title deeds, especially at the Coast, seeks to address historical land injustices. The problem of squatters has been a vexatious issue for years post-independence.
Since 2013 to date, the Jubilee government has issued more than six million title deeds, mostly to squatters. The issuance of 10,000 title deeds to Samburu West Constituency residents for what was formerly communal land has started.
The exercise began in Logurate and Lesiomi areas in an exercise worth about Sh100 million according to the Principal Secretary in the Ministry of Lands and Physical Planning, Dr Nicholas Muraguri.
While lauding the exercise, the government should conduct it in a transparent manner that ensures only those who deserve get the title deeds. Land is an emotive issue which, if handled poorly, could trigger conflict among communities. The latest issuance of titles to residents portends good for the community.
Land is a key factor of production on which high value is attached. Samburu falls under the arid and semi-arid areas classification, which, coupled with lack of title deeds, has taken focus away from agricultural production. The residents are largely pastoralist, and place more value on sheep, goats and cattle. The issuance of title deeds should be the first step towards enhancing food security by fully encouraging agriculture.
The county government should therefore encourage residents to take up farming as a way of sustaining livelihoods and boosting their economic fortunes. Those who may wish to take up bank loans using their title deeds as collateral, should be guided to do so prudently.