Instil values in our youngsters through dedicated parenting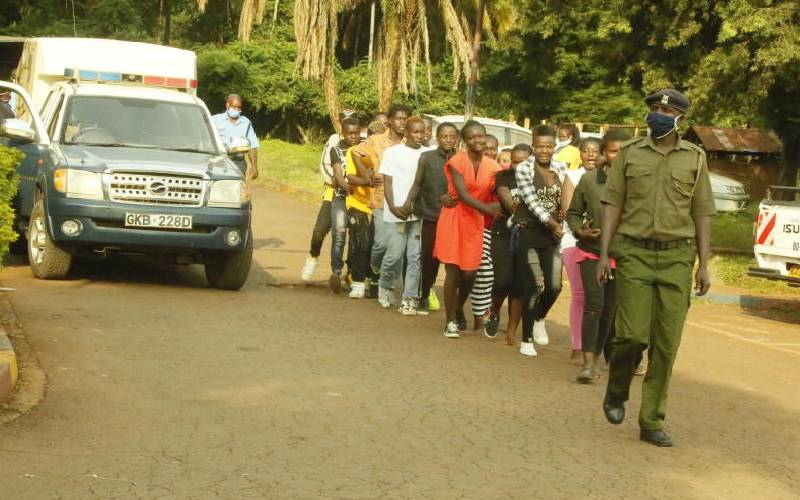 We are faced with deeper moral depravity than meets the eye. Last Friday, the parents of six girls raised the alarm after their teenage daughters went missing. The girls had gone for six days.
Police mounted a search and found some of them in a house in Komarock Estate, Nairobi, having a good time.
On Saturday, officers raided a house in Mountain View Estate, Nairobi, where 26 boys and 18 girls were found intoxicated. According to the police, some of the youngsters were high on drugs and liquor and, more disturbing, used condoms were found in the compound.
A day later, 20 inebriated teenagers were arrested in a house in Maralal, Samburu County, at 12am. These arrests are symptomatic of a bigger societal rot that should not only worry all responsible adults but galvanise them into action.
Early this year, following the closure of schools due to coronavirus, some counties conducted studies that revealed high numbers of teenage girls who had been put in the family way, majority of them aged between 10 and 19.
In Nandi County, for instance, 1,500 girls were impregnated between January and July. In Narok County, 5,000 girls were impregnated between March and July. Nyandarua County reported 800 pregnancies between January and July, according to the National Council for Population and Development. Kisumu County recorded 3,500 in the same period while in Machakos 4,000 girls were said to have fallen pregnant between January and May.
These cases are being blamed on the idleness caused by school closures. But in as much as this may be true, it shows that parents have abdicated their roles to teachers. Even as we blame the youth, these cases also point to the failure by adults to act as role models for youngsters. When adults defy government directives aimed at curbing Covid-19 and get arrested for being in bars past the 9pm deadline, they inadvertently tell the youth that it is okay to be defiant.
It seems like the fabric that held society together and encouraged co-parenting is broken as parents preoccupy themselves with careers at the expense of parenting. This is unacceptable since the family should always come first.
The setting up of a Cyber Wing for Child Protection at CID training school is welcome, but it can only succeed in protecting children if everybody plays their roles as responsible citizens.
No doubt, our moral compass is lost, but we must find it and orientate ourselves afresh. Children must be protected, first, by parents and guardians, then society and the government. Punitive action should be taken against the adults who abetted the above cases. The police should go the extra mile to arrest child molesters.