Sonko and Badi should get Nairobi up and running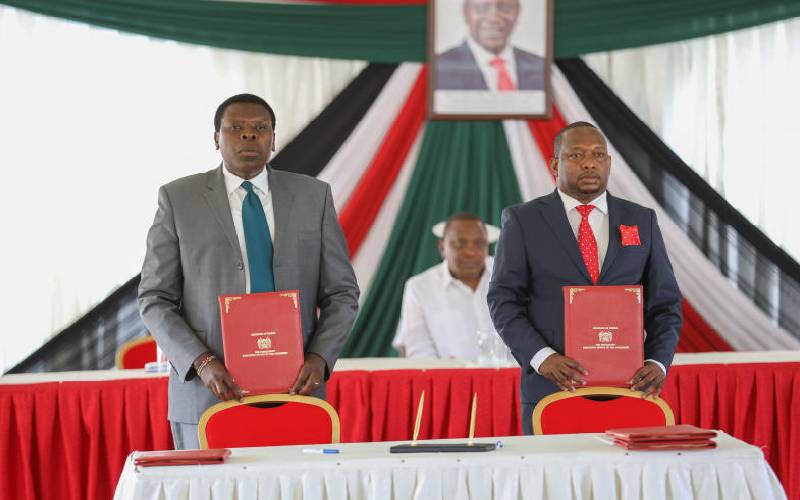 The frosty relationship between Nairobi Governor Mike Sonko and the Nairobi Metropolitan Services (NMS) has reportedly thawed.
This follows a State House meeting last week at which a deal was reached between Governor Sonko and Director General NMS General Mohammed Badi to work together for the benefit of Nairobians. Indeed, that is good news after months of standoff in which the two sides have traded barbs. In February this year, Nairobi County Government ceded four key functions; health, transport services, public works, planning and development to the National Government, to be managed through NMS.
County staff secondment and budgetary allocations to NMS became sticky issues even before the ink on the deed of transfer dried up. While the Senate rejected a proposal by MPs to allocate NMS Sh15.9 billion from the Consolidated Fund, Governor Sonko rejected a supplementary budget by MCAs that would have given NMS Sh15 billion. At some point, Sonko even appeared to suggest he had been coerced into signing the deed of transfer and sought to get the transaction cancelled.
Nairobians have not gotten what they bargained for when they elected Sonko in 2017. As a matter of fact, the city residents have been short-changed every inch of the way, and while the formation of NMS was to give them relief, they are yet to get it.
The recent Executive Order that places NMS under the President's office and allocation of Sh28 billion by the Treasury in May should give it the impetus to deliver what it promised to do within 100 days of its formation.
With NMS and the county government playing complementary roles, Nairobians should now get requisite services for which they pay taxes.