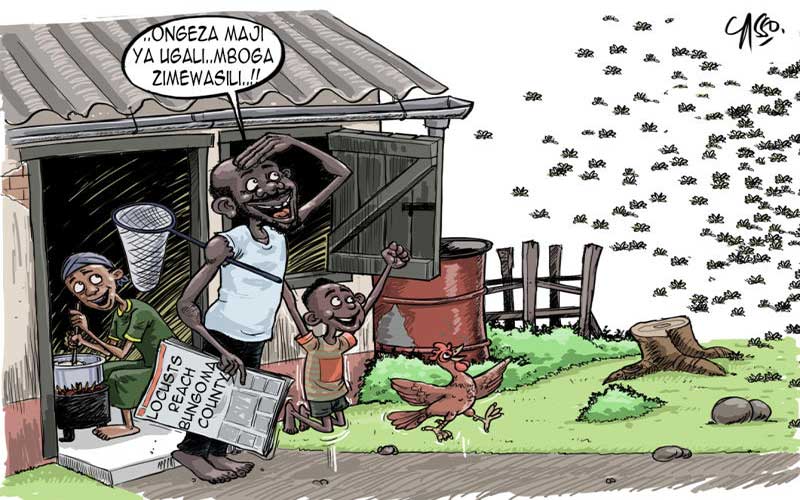 Before coronavirus hung over Kenya like the sword of Damocles, one of the hottest subjects in the public sphere besides Building Bridges' Initiative (BBI), was the locust infestation. Unfortunately, after the coronavirus made a landfall, the subject appears to have been put on the back burner, just like the BBI. The talk now among citizens and their leaders is about the formidable threat posed by coronavirus. This is good considering that the virus is an existential threat not only to us, but also to the entire world. Globally, there are 308,594 coronavirus cases — seven of them in Kenya — and 13,069 deaths. The numbers are still growing.
SEE ALSO: Wildebeest migration begins without foreign tourist crowds
The pace at which this virus is spreading calls for individual and joint efforts of the world's 7.7 billion people to stop it. This is a war that we must wage together. It is a landmark war to which everyone must contribute to boost our arsenal and chances of success. Washing your hands, for instance, will go a long way in ensuring the world wins this war. But although it is, no doubt, a life or death affair, we must not forget another important battle for our lives: The locusts. Reports indicate that these destructive insects are still spreading their wings across the country. In addition, millions of eggs that they laid have begun to hatch and the small insects are doing flying rehearsals before joining their parents' destructive mission. The locusts have lately been ravaging parts of Embu, Laikipia, Isiolo and Tharaka-Nithi. They have also destroyed more than 85,000 acres of vegetation in Samburu. Encouragingly, even in the face of the coronavirus, which has forced the Government and companies to scale down operations, some counties are still trying to sustain the battle against the locusts.
SEE ALSO: Kenya reports 492 new coronavirus cases
That is as it should be. However, in most parts of the country the fight against this pest has gone low key. We cannot afford to drop the ball, even in the face of coronavirus. This is because just like this virus, locusts keep on multiplying if no efforts are made to contain them. And just like coronavirus, they might end up claiming lives if we don't control them now. They are capable of turning our farmlands bare. According to FAO, a swarm of 40 million locusts, eats the same amount of food in a day as 35,000 people. That's why the Government must ensure the war against coronavirus doesn't undermine the one on locusts by, among others, ensuring a steady flow of pesticides despite the existing travel restrictions. It would be pointless to triumph over Covid-19, only to end up dying of starvation after the locusts devour all our food.