Public right to query senators' decision to defend governor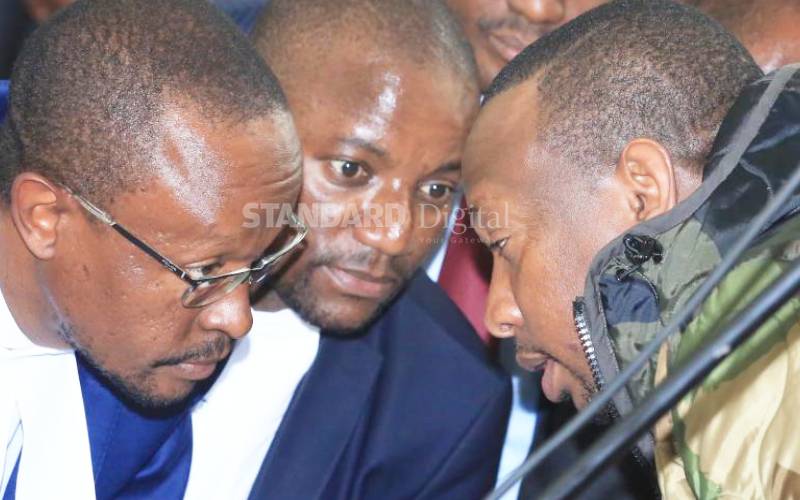 The public has been dismayed by the decision of two senators to defend Nairobi Governor Mike Sonko in court.
Makueni Senator Mutula Kilonzo Jnr and his Elgeyo Marakwet counterpart Kipchumba Murkomen are among 12 lawyers Sonko has lined up to defend him against the corruption allegations leveled against him.
Sonko has a right to be represented by good lawyers — the best that money can buy. And without doubt, Mr Kilonzo and Mr Murkomen are outstanding lawyers. They are advocates any one in Sonko's shoes would wish to have.
Be that as it may, the public is justified to question whether the two senators are in order to represent Sonko.
This is because senators play oversight role over the counties; they are the ones who ask governors the hard questions on behalf of the people when things go askew.
Kilonzo and Murkomen sit in Senate committees where governors are put to account over public funds.
Kilonzo even sits in the powerful Budget and Finance Committee that allocates money to counties and has been a strong defender of counties, demanding accountability at all levels. Sonko was slapped with 19 charges, with the prosecution accusing him of conspiring with businesspeople and senior county government officials to embezzle more than Sh380 million.
According to Article 96 of the Constitution, the Senate is supposed to represent counties and serve in their interest.
Senators are therefore supposed to, among others, protect county funds from being misused. While Sonko will remain innocent until proven guilty as our law dictates, it is in bad taste for the same people who are supposed to ensure county coffers are not pilfered to line up to defend him.
This is because as custodians of the people, senators are supposed to be horrified by even the mere mention of theft of county funds. By defending a person accused of embezzling county funds, they send a message they are more concerned about the interests of the accused than the residents.
The public would have expected the senator-lawyers to, like the rest of Kenyans, be appalled by the alleged rip-off, stand aside, and pray that justice be done — not to defend Sonko.
All said and done, they have every right to defend Sonko — legally and constitutionally. But the public is asking a simple moral question: Is it right for people who are charged with overseeing county resources to defend those accused of plundering the same?