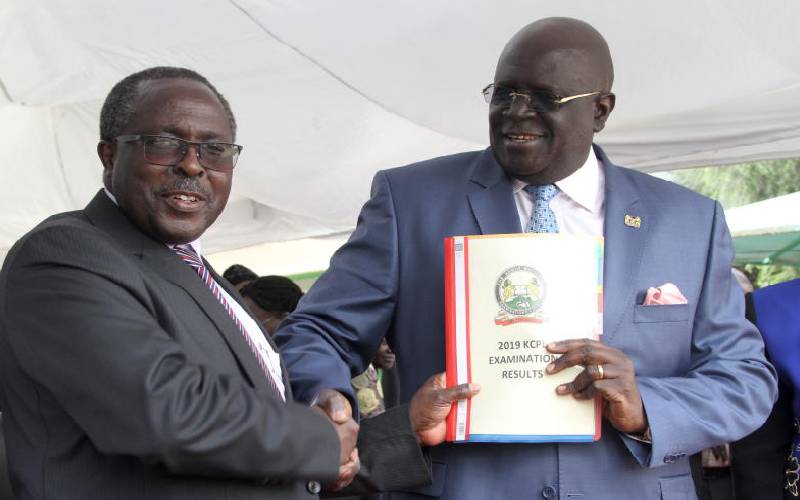 Yesterday's release of the Kenya Certificate of Primary Education (KCPE) examination results marked a milestone in a journey that began four years ago. It was the journey to reclaim the integrity of national examinations that had been violated for decades through indiscriminate cheating. It took the exams markers 18 days to release the results, a remarkable shift from the practice where they came out at the end of December. In itself, this gives parents time to plan adequately for the transition to Form One. Education Cabinet Secretary George Magoha assured Kenyans of a 100 per cent transition rate from primary school to secondary for the 1,083,456 candidates who sat this year's examinations, with 9,000 full scholarships for selected students under the Elimu Scholarship Programme.
SEE ALSO: Ensure safety of students in community learning centres
This is an ambitious undertaking that requires full commitment by the government. The eradication of illiteracy, a key government target, is predicated on government going flat out to ensure that even the less fortunate in society have a fair shot at education to improve their prospects. Yet towards this goal, the government has acquitted itself well. From 938,912 KCPE candidates in 2015, the number has steadily grown to 1,083,456. According to Magoha, the government has set aside Sh8 billion for the expansion of secondary schools' infrastructure to handle the large number of transitioning students, and indeed, that is where the major challenge lies. Government policies are always well-articulated, but more often than not, the execution falls short of public expectations. The Ministry of Education deserves accolades for eliminating cheating although a few cases of attempted cheating by examination officials were reported. Only four candidates were disqualified over impersonation where before thousands were disqualified.