Police handling of Tangatanga Jubilee wing raises eyebrows
The shameful confrontation between nominated MP Maina Kamanda and Kiharu lawmaker Ndindi Nyoro during a church service in the latter's backyard has once again exposed the deep fissure that has divided Jubilee Party in Mount Kenya region.
It all started after the two fought over the microphone after Mr Ndindi felt spited when he found Mr Kamanda acting as the master of ceremonies during a harambee at Gitui Catholic Church in Kiharu. Ndindi insisted that, as the local MP, he was the one supposed to act as the host and not Kamanda.
Without doubt, the standoff was disgraceful and the two ought to apologise to the church for desecrating the holy place. Had one of them restrained himself, the ugly scene would not have unfolded. In fact, it is such crude behaviour that has made some priests to ban politicians from ever speaking in their churches.
But ugly as it was, the standoff underscored the obvious; that the political class in Central, that is used to speaking in one voice, is split down the middle. There are no signs Kieleweke and Tangatanga teams will build bridges any time soon. For the record, Tangatanga supports Ruto and his 2022 presidential ambition while Kieleweke comprises politicians who are determined to ensure Ruto will not be elected president.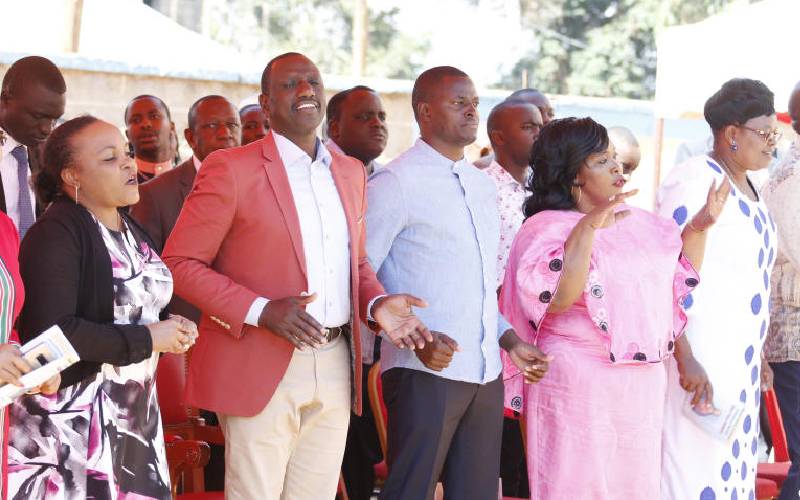 We cannot begrudge the two camps of their positions. Whether to support a political candidate or not is a personal choice and a democratic right. Freedom of speech and association are key pillars of our democracy. No one should be vilified or crucified for exercising these freedoms.
Sadly, Tangatanga, which Ndindi is a member, claim they are being targeted for supporting the deputy president. In fact, speaking on Inooro TV, a Kikuyu vernacular station, after Sunday's altercation, Ndindi claimed even before he attended the church service, he had been warned that he would be arrested that very day.
And that is not all. The MP and his Kikuyu counterpart Kimani Ichung'wa further alleged Tangatanga members have received death threats, and reported to the police, from unknown people for being members of the group. If this, if true, it is most chilling. These allegations should be taken with the seriousness they deserve. There is need to establish whether someone has indeed threatened the MPs' lives.
In addition, there is need to pay special attention to the MPs claims that police are targeting them, for indeed they have shown bias against the Tangatanga.
While they were justified to seek the immediate arrest of Ndindi — even laying siege outside the TV station — it boggles the mind why they drag their feet when it comes to dealing with those who engage in similar impropriety on the Kieleweke side.
A case in point is Nyeri Town MP Ngunjiri Wambugu. Last month, the MP was captured on video leading a group of youths who disrupted pro-Ruto's Inua Mama group in Nyeri. That appears to have escaped the glare of the police as Ngunjiri has never been questioned.
In June, Mr Wambugu was accused of leading youths to disrupt Agriculture Cabinet Secretary Mwangi Kiunjuri's development meeting in Nyeri. Kiunjuri is perceived to be on the Tangatanga side. Again, police appear to have missed this daylight breach of the peace as there is no evidence the MP or the youths were ever taken to task.
These two incidents give credence to the Tangatanga members' claim that they are being targeted unfairly. There seems to be double standards in the police treatment of suspected errant members of Tangatanga and Kieleweke teams.
This should not be the case. The law should be applied equally to all Kenyans, and it should never be seen to favour a section of people, more so for their political inclinations. The Tanganga group has a good reason to cry foul.
Police should shun strongly any effort to use them as pawns in political wars. It has happened before and they have always been left carrying the monkey on their backs.
They must always show fidelity to the Constitution by doing what is right and just. They must remain impartial and true to their motto, "Utumishi kwa wote".
But when police ignore the transgressions of Kieleweke and take on Tangatanga with a hammer, it would be hard to convince the public of their impartiality.