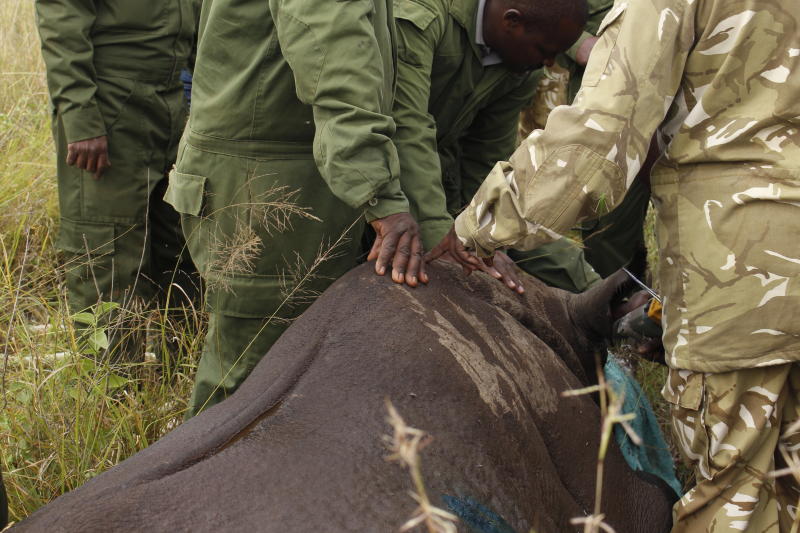 Amid pomp and colour, Kenya Wildlife Services translocated 14 Rhinos from Lake Nakuru and Nairobi National Parks last month. Their new home was the Tsavo National Park.
Hardly three weeks after the exercise, 8 of the Rhinos were reported dead, causing conservationists to raise furore. That is quite understandable; how could it happen in such a short a period of time?
While conclusive results on the possible causes of the deaths are being awaited, a number of theories have been advanced. Among them is the theory that salt in the Tsavo water caused the deaths, but that presupposes that other animals in the park do not drink the same water; for no deaths have been reported over salt poisoning before.
However, the theory by Cabinet Secretary Najib Balala that the clicking of media cameras and noise from journalists could be responsible for the deaths sounds ridiculous, escapist and designed to divert attention from the real issues. The translocation of the Rhinos achieved what it was intended to avoid; killing the endangered species.
If indeed salt water in Tsavo is responsible, that is a pointer that feasibility studies were not conducted before the Rhinos were moved. Yet it is also possible the animals died from the effects of sedation. To capture, truss and move them, the Rhinos had to be sedated.
Read More
Some vaccines and drugs have caused deaths and disability in humans, hence this angle should be investigated. If tests point to negligence, those responsible should face the law for defeating conservation efforts.