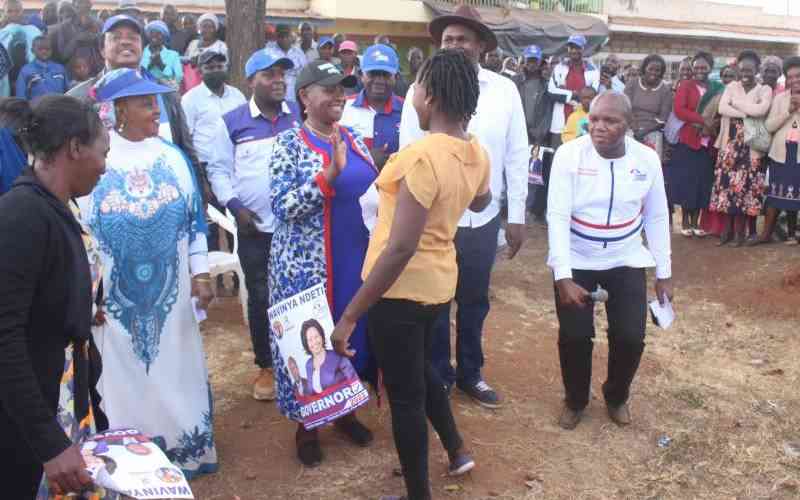 Machakos Wiper party governor candidate Wavinya Ndeti and her running mate Francis Mwangangi have today unveiled their plan to stabilise the county's food security through rehabilitating of the 58km Yatta Cana.
During their extensive campaign tours in Yatta, Masinga and Mwala constituencies, the two also declared their commitment to the commencement of construction works of the proposed Sh9 billion Yatta Dam, which will guarantee seamless flow of irrigation water through the canal.
Mwangangi, who served as Yatta MP between 2013 and 2017 says the concrete lining of the Yatta furrow which was undertaken through his initiative at the cost of Sh2 billion has been rendered dysfunctional by excessive siltation and encroachment thereby disrupting the constant supply of water to farms downstream. The two leaders are banking on voters' mandate to enable then embark on the massive revival of the mass irrigation plan whose successful completion is expected to put at least 40,000 acres of arable land under irrigation all year long.
"Having been part of the team which developed the master plan of the utilization of the Yatta furrow for the execution of mass irrigation, governor Wavinya and I will move swiftly to ensure the full plan is implemented through strategic resource allocation," Mr Mwangangi told residents during a rally in Matuu town.
The former legislator lamented that the region's food security and dwindling households' income were triggered by the sharp decline of water flow in the canal.
"Unless we find a permanent solution to the insufficient water flow into the canal, we will not achieve our objective of fixing the food security concerns in the region. Our priority, when elected will be to ensure increased water volume flows through the canal seamlessly in season and out of season," said Mwangangi.
Wavinya said the litigations by a section of residents had halted the construction of the proposed Yatta dam but the standoff has since been addressed.
"Nothing now stands on the way for us to implement the project in conjunction with development partners. We will strive to ensure Yatta region becomes the county's bread basket through irrigation based agriculture," said Wavinya.
She said her government will source for both local and international market for horticultural produce grown by organiSed groups of farmers.
"We want to do away with the politics of hand-outs and food aid. Machakos residents have the capacity and potential to finance their livelihoods with a sense of dignity," she said.
To achieve food security, Wavinya said part of their strategy will be to provide subsidised farm inputs as well as incentives to local farmers. "We will implement a comprehensive agriculture policy that will ensure maximum benefits to all farmers as well as stakeholders in the entire value chain," she said.
The former Transport Chief Administrative Secretary decried the rampant pollution of River Athi, which she termed as a serious threat to health and food security.