Senators seek Sh2 billion for Wikithuki Irrigation Scheme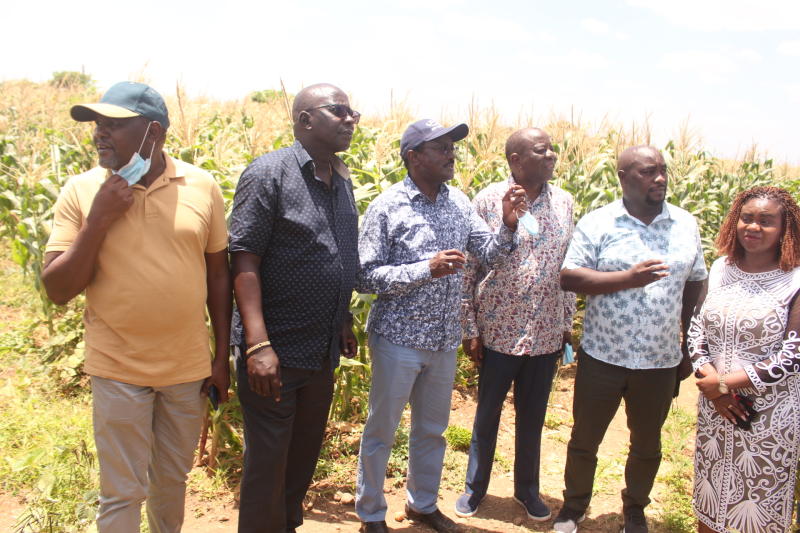 The Senate Committee on Agriculture has promised to seek more funding for the expansion of Wikithuki Irrigation scheme in Kitui County as part of improving food security.
Speaking while on a tour of the irrigation scheme last Thursday, committee members led by chairman Njeru Ndwiga said they will embark on a mission to propose to the government ways to raise Sh2 billion needed to put 20,000 acres under irrigation at the scheme.
Ndwiga said part of this money will go towards making the irrigation scheme solar powered so that the farmers do not rely on the expensive electricity which has curtailed farm production.
Sustainable project
"I'm impressed by the soils here because they are very rich. What is needed is to inject some more funding to expand the project to be able to produce more food. As a committee we will deliberate and make a report advising the government on ways in which to make the project better and sustainable," said the Embu senator.
Others present at the event were Wiper leader Kalonzo Musyoka and Kitui leaders among them Senator Enoch Wambua, who is the committee's vice chairman, Woman Rep Irene Kasalu and Mwingi North MP Paul Nzengu.
Senator Wambua said the committee's visit was guided by the recent declaration of drought as a national disaster, adding that deliberate efforts should be made to ensure more land is put under agricultural production to feed starving Kenyans.
The scheme was started during the grand coalition government with a vision to put 20,000 acres of land under irrigation on the banks of River Tana.
It was being implemented by National Irrigation Board (NIB) but the project stalled in 2014 as farmers could not cater for high electricity costs to pump water from the river to their farmers.