Brothers death: Kin cry out for justice as one shot in demo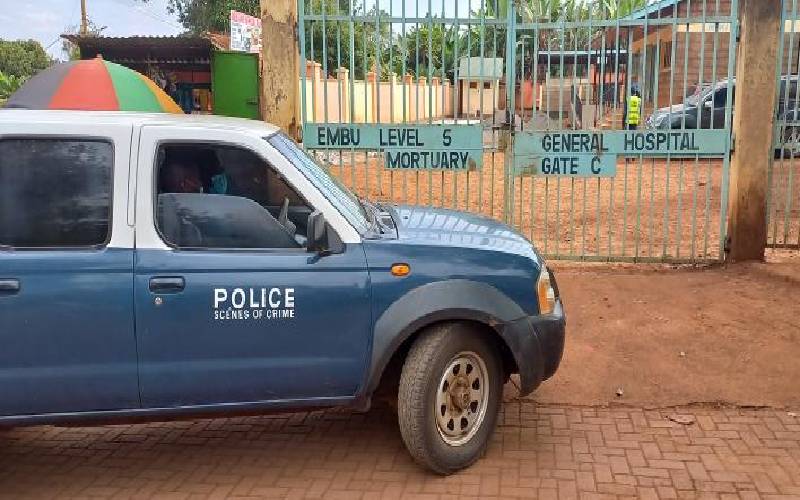 A man was shot dead yesterday as residents of Kianjokoma in Embu County engaged police in running battles over the death of two brothers who were arrested on Sunday for contravening curfew regulations.
Yesterday, acting Embu County Police Commander Kimani Mitugo said he had received reports of the fatal shooting but could not access the scene due to violence.
"We will investigate what happened. The situation was chaotic as the public engaged the police in running battles," Mitugo added.
Mitugo said the residents attempted to invade Kithangari police post on Wednesday night but were repulsed after burning two vehicles. "They vandalised communication systems at the police station, overturned furniture and burnt two vehicles. Their intention was to burn the police post," he said.
He called for calm as investigations were underway into the death of the two brothers. Business remained closed. "We were in a hotel and police forcefully ejected us with rungus," said a resident.
MPs Cecily Mbarire (Nominated) and Eric Muchangi (Runyenjes) visited Kianjokoma to try to calm the residents.
The bodies of Benson Njiru, 22, a student at Kabarak University, and his 19-year-old brother Emmanuel Mutura were found at the Embu General Hospital morgue on Tuesday. Police claim they died after jumping from a moving police vehicle.
Emotions ran high at the Embu Level Five Teaching and Referral Hospital mortuary during the postmortem on their bodies. Their mother Catherine Wanjira was present. Independent Policing Oversight Authority (Ipoa), Independent Medico-Legal Unit and Government pathologists took part in the postmortem.
Muchangi Gichugu, the family lawyer, said they will pursue justice after the autopsy results showed Benson sustained multiple injuries while Emmanuel succumbed to head injuries.
Dr Kamau Wangai, the pathologist at the Embu Level Five Referral Hospital, said ?they were all in agreement with the results. Felix Nthiga, the family spokesperson, said they will commence burial arrangements.
Ipoa chair Anne Makori said a team from Nairobi had arrived in Embu to join their Meru counterparts in the probe.
"Ipoa has deployed investigators from Nairobi to beef up their Meru Rapid Investigations team who launched investigations yesterday," she said. "Upon conclusion of the investigations, the authority will make recommendations, including prosecution if criminal culpability is established on the part of the officers involved," she said.