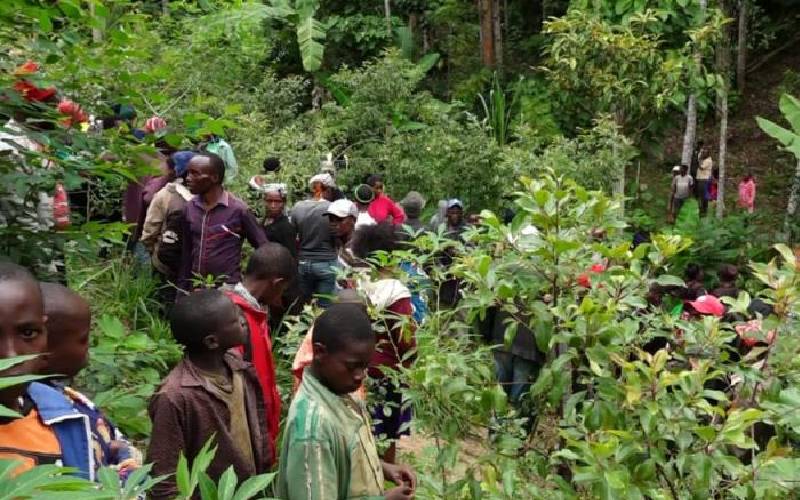 A man who had threatened to kill his mother was lynched at Kathima village in Igembe Central.
Jediel Kaberia, 30, was killed by a mob after his mother screamed for help while he was chasing her around her homestead.
Eunice Nkatha later told journalists she was happy with the killing, adding that her son had been bothering her.
Kaberia had been jailed after killing his wife, his child and father, but was allegedly released from Kangeta Prison on May 20 under unclear circumstances.
"When he came home, I was in great fear. I kept on praying and asking myself why the government would set free a criminal who caused wounds that were yet to heal in our hearts.
"He arrived on May 20 and left immediately only to return on Tuesday night to chase me from home. I didn't get sleep the whole night. He was a criminal," Nkatha said.
Nkatha added she is now at peace after escaping death by a whisker.
"I could now be his fourth victim after he had vowed to kill seven more persons. We don't know why he turned rogue yet we had given him all the rights that a parent can give to their son. We even allocated him land with a lot of tea crop," said the mother.
"We have witnessed weird happenings in this village. This man was on the run after killing his father but the long arm of the law caught up with him in Isiolo," Bernard Kimathi, a neighbour, said.
Kimathi added that his mother was a witness in the murder case and was always wondering why the son had left remand prison.
Elsy Wanja said neighbours had been living in fear of being attacked by Kaberia, while one Ken Mutwiri said he had tried to offer counseling to Kaberia, but was met with a rude confession.
"I enticed him to find a church, assuring him that the community had forgiven him. He shockingly told me he was on a mission to kill three more people, starting with his mother. He insisted his brother and another person identified as Karithi were to die as well," he said.
[Gerald Mutethia]