Shock as Mlolongo woman arrested stuffing used pants in busaa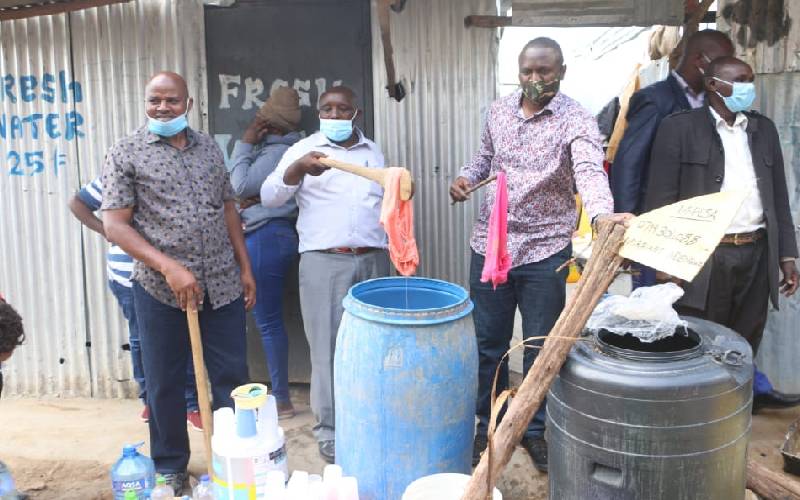 A woman alleged to be a chang'aa brewer shocked residents of Mlolongo after police found numerous old pants stuffed inside a drum of busaa inside her house.
The middle-aged woman said to be selling the busaa covered her face in shame as the officers ransacked her 'brewery'.
The suspect was arrested and whisked away by the police as a crowd started forming to witness the bizarre incident.
Locals and the police who were hunting down illicit brewers in Mlolongo's Phase 3 area and its surroundings were shocked when they stirred the smelly mixture only to find already won women's pants inside the booze.
Locals led by Mlolongo Assistant County Commissioner Dennis Ongaga together with the police and the area chief poured out thousands of litres of the booze and destroyed the jerricans containing the illicit drink.
"I am a resident of Mlolongo and this is shocking. Our kids are lost in drinking dens, and cannot even return home because of witchcraft," Paul Okumu, a resident of Mlolongo told the media.
"This is not good alcohol because of what these people put in it. I drink at this spot, and I am shocked that I have been consuming busaa made using women's underwear," another shocked local said.
"We are happy with the government and the local chief for this crackdown, it is wrong for them to sell for us busaa cooked with pants, said Samuel Onkangia who lives at Phase Three.
Speaking to Standard on a phone interview, Assistant County Commissioner Mlolongo Dennis Ongaga who led the operation, said the seven-day-old crackdown will continue until the brewers are all arrested.
Warned youths
He warned youths against the consumption of illicit brew, adding that it has health side effects.
Ongaga said the stuffing of pants in drums of busaa is an outdated belief that they improve fermentation and quality of the brew.
"It's unhealthy, unhygienic and outdated cultural practices from some communities which belief the garments make the busaa sweeter."
He said they impounded 620 litres of busaa, 20 litres of Kangara and 15 litres of muratina which were all destroyed.
He said the ongoing operation continues and now targets Kathagaitha, Sabaki, Katani shopping centre, Kicheko, calling Phase 3 and the surrounding estates.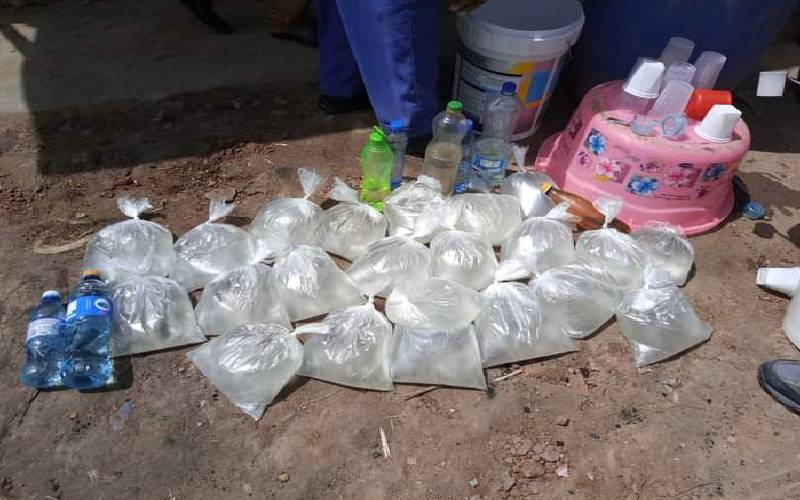 Ongaga warned bodaboda operators and private car owners who ferry the illicit brew from Mukuru Slums in Nairobi to Mlolongo that action will be taken on anyone arrested.
"We have met with local boda boda operators and matatu Sacco leaders here to help us identify those behind the crime," Ongaga said.
Mlolongo OCS confirmed the crackdown is ongoing but said he was not part of the team that arrested a local brewer who had stuffed underwears in her busaa. brew
"We carry out operations here daily to ensure Mlolongo is free of illicit," he said.
He warned the youth against the consumption of illicit brew, saying they are harmful to the human being.
"If you hear some items being used to prepare liquor, they are not good at all," he said.
It is not the first time such shocking paraphernalia have been found soaked in drums of busaa.
In 2019, used condoms, sanitary pads and underwear were found inside illicit alcoholic brews after police and residents destroyed over 3,000 litres in a raid on Majengo slums. The local 'Nyumba Kumi' community policing team also took part in the exercise.