Open graves haunt homeless Makueni residents as landslides sweep homes and crops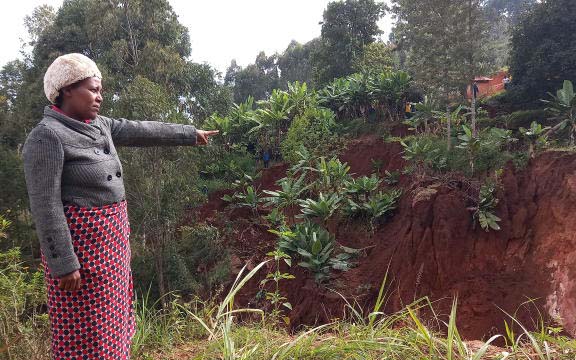 Perennial landslides in Kilungu, Makueni County, have left residents homeless, exposed graves and destroyed food crops.
More than 20 families are staring at dark days ahead as the earth continues to drift further.
Kivingoni village in Kaiti Constituency has been hitting the headlines every rainy season, with displaced families forced to camp in schools and churches in elevated areas. The government has done little to mitigate the situation.
Yesterday, when The Standard visited the village, locals were salvaging the little they could find before moving to higher grounds. The landslides, which started three days ago, have also cut off Kilungu from the neighbouring Nunguni market.
"Sleeping in our homes is a problem; we have been forced to seek refuge at neighbouring villages. Storm water has no definite course, we have lost our crops and toilets have been washed away," said Stephen Manase, an affected resident
Mary Mwongela said the situation was bad for school-going children braving cold nights in homes that are not their. "We have no peace. Our children must go to school, but we are putting up in places they are not used to," said Ms Mwongela, who has three children who go to a nearby primary school.
Ruth Mwongeli, a mother of four, is a widow. She is in tears as she remembers the life she has been living without her husband and now his grave has been exposed by landslides. "My husband's grave has been left open. When I see his bones it pains me. Let the government help us move these graves so that their souls can rest in peace," she pleaded.
Mutunga Mutie is staring at the same fate; with four graves of his relatives almost being laid open.
"It is not good to see the bones of your loved ones. The way I see the situation here, they will be washed away in just a few hours," Mutie said.
Florence Mutunga spoke of a possibility of the village being flattened if the government fails to bring a lasting solution. Joseph Maiyu, her neighbour, challenged the government to send scientists to unearth reasons behind the soil movement and create resilience locally. "We need experts to establish if there are any tectonic movements underneath so that it can make informed decisions," said Maiyu.
Area Assistant Chief Charles Musembi said more than 20 families had been affected and that they were trying to find alternative places to host them. "We will move them to schools and churches. We want to engage schools around to accept them, as we start relocating the displaced families," he said.
Last year two children died in the same village following landslides that also destroyed several homes. Kenya Red Cross constructed new homes for the affected.