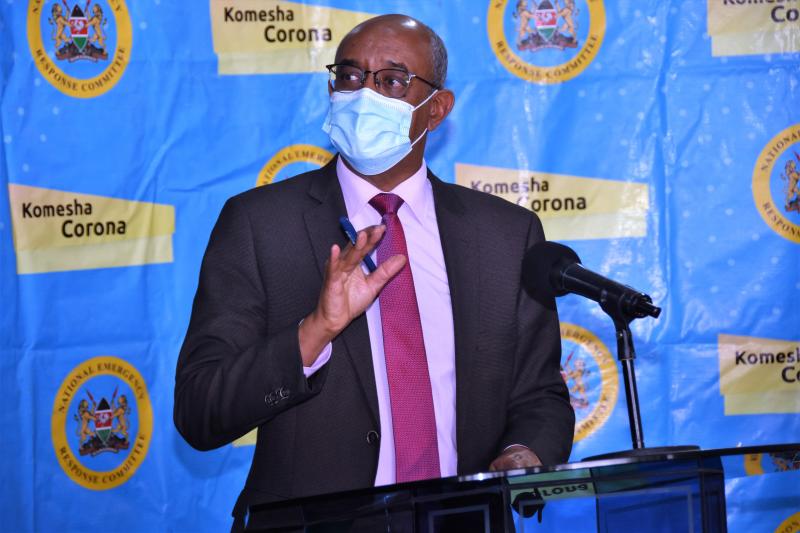 The Ministry of Health has warned of rising Covid-19 cases in counties even as the curve flattens.
Health Chief Administrative Secretary Rashid Aman reported 151 more coronavirus cases and noted that 70 per cent of the 35,205 cases so far are concentrated in three counties.
Kitui reported the highest Covid-19 cases countrywide at 54, followed by Nairobi with 23 and Uasin Gishu 11.
There was no death reported in the last 24 hours. Recoveries rose to 21,438 after 173 discharges.
"At individual level, counties such as Machakos, Kajiado, Kitui, Meru and Nyeri seem to be experiencing rising numbers of confirmed cases," he said.
However, Nairobi is still leading with 19,801 cases followed by Kiambu 2,587 and Mombasa 2,438 accounting for 56, 7.0 and 7.0 per cent, respectively.
The cases in the three counties also account for 80 per cent of the 479,697 samples tested so far.
Viewed with caution
Aman said the national decline in Covid-19 cases was largely contributed by the three counties, which is not the case in other areas.
He said while the country was optimistic, the flattening of the curve should be viewed with caution.
"We therefore plead with our people not to lower their guard as a result of this progress. We must continue to strictly adhere to the containment measures if we have to push in this journey to flatten our curve," he said.
The decline in the number of cases has also seen a downward trend in intensive care unit admissions from 60 at week 28 to 25 currently.
The CAS warned that a second wave of the disease was possible following the trend in other countries like Spain, Belgium, Netherlands and France.
Kenya is seeking to attain a positivity rate of below five per cent and sustain it for two weeks in order to declare the pandemic controlled.
Yesterday, the ministry reported 151 cases from a sample of 2,552, which is a positivity rate of 5.9 per cent.
Follow-up
For the first time, there were more female than male cases: 77 vs 74, respectively. On Monday, the number of cases was equal at 51 for both genders.
Aman said the national government was working with counties on testing for coronavirus and contact tracing.
"We are working with these counties in testing and doing follow-up to be able to get the accurate data," he said.