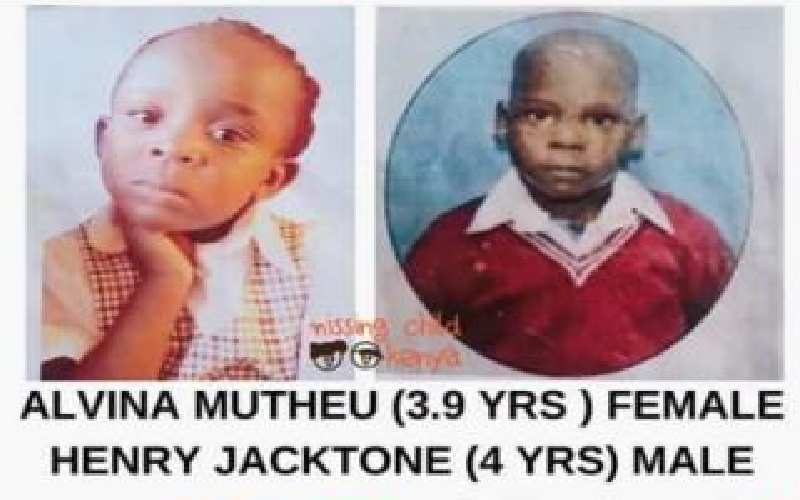 It will take longer before the police can establish what killed the two children whose bodies were found in a car at Athi-River police station.
A postmortem did not reveal the cause of the deaths of Alvina Mutheu, 3, and Henry Jacktone, 4. More tests, including forensic examination of maggots collected from their decomposing bodies, are the only hope left to unravel the murder mystery.
Government pathologist Johansen Oduor said the forensic investigator who will examine the maggots collected from the decomposing bodies will now help establish when the children died.
Among the reasons why the postmortem exam failed to reveal the cause of the deaths is that the body parts were decomposed.
Read More
"What was left of the children's bodies was not enough to reveal what may have caused their death," Oduor said. He estimated that the bodies could have been lying in the car for up to four weeks.
"We are unable to state the cause of death as for now. The police and forensic entomologist will help," Oduor told journalists at the Chiromo mortuary after the postmortem.
He revealed that the two children did not have any visible body injuries or any broken bones.
This observation has now enabled the DCI homicide investigators to rule out the hit-and-run accident theory that they have been pursuing.
On this basis, the investigators said last evening, they were only left with one theory of investigation.
This is the possibility the children could have suffocated after they locked themselves inside the accident car at the police yard.
The suffocation theory seems to tie well with details provided to the police by three breakdown operators tasked to move vehicles at the police station on May 1.
Sources familiar with the statement of the three said the vehicle in which the minors died could have been left open after they moved it.
The crew said they had to forcefully gain access into the car by breaking a back passenger window after the vehicle failed to move.
Police believe the children could have gained access into the car where they suffocated. They have since established that the children died inside the police station.
A trader who runs a kiosk outside the police gate told police that he saw the children walk into Athi River police station on June 11. The businessman said he never saw the children leaving the police station. It remains unclear how the minors, who were barely learning to speak, walked over two kilometres from their homes to the police station yard.