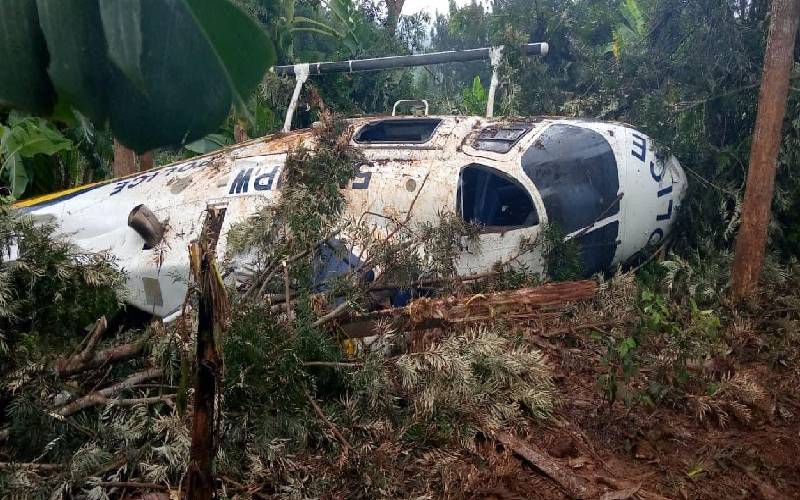 A police chopper carrying regional security team to Marsabit crashed Saturday morning at Kaithe in Meru County.
Witnesses said the chopper came down on trees minutes after it had taken off from Embu.
Police said the injured were rushed to the hospital in the area in stable condition and there were plans to transfer them to Nairobi.
The crashed chopper is an Agusta Westland AW119 and is among the new fleet acquired by police.
Read More
It is suspected bad weather caused the crash.
The chopper had two pilots and four security bosses including Eastern regional police commander Lydia Ligami.
The pilot first made an emergency landing in Murang'a because of bad weather before proceeding with the journey.
The chopper, which was being flown by Police Airwing Pilot John Kemboi, was headed to Sololo for a security meeting.
The chopper left Wilson Airport at about 6.45 am.
Airwing Commandant Col (Rtd) Rodgers Mbithi said the pilot in the ill-fated chopper and himself (Mbithi) left Wilson, Nairobi with two choppers heading for the meeting.
"I have talked to the pilot and he with the others who were on board are ok. Stable," he said.
Mbithi managed to fly to Garissa and Wajir to pick his team. It is not clear if the meeting will go on. The meeting was to take place in Sololo, to solve a number of security issues.
The single-engine AW119 is among the new choppers recently bought for the service.
Locals said there were six people including the pilot in the police chopper.
Officials said investigations into the incident had been launched.