Mass testing for new Thwake dam workers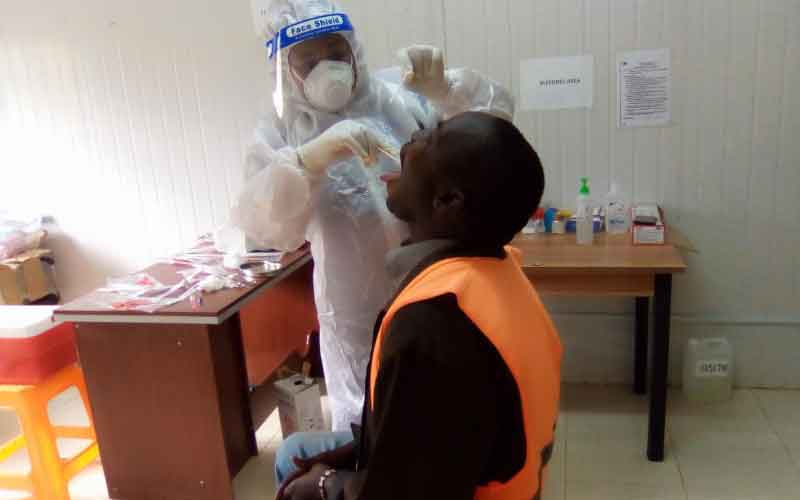 Workers at the Sh63 billion Thwake Multipurpose Dam today underwent the second phase of mass testing for Covid-19.
Eutychus Muthiani, nurse-in-charge at Thwake project medical centre, said the testing was targeting about 30 new workers across all sites.
"We are going to continue with this mass testing of our workers but today we were targeting only the new workers joining us. We will continue doing other essential services like screening at various entry points," said Muthiani.
The programme is led by doctors from Makueni County Referral Hospital.
Progress of work
The project's safety manager Apopo Lentana said workers have been adhering to the health guidelines to avoid infection and had completed 37 per cent of the work.
"We have done mass testing at various times in a random manner. This was the third time we are doing this. We had a positive the case here in Makueni and we are not leaving anything to chance since such can it jeopardise workflow here at the site," Lentana said
There has been minimal to almost zero interaction between the workers, those in the surrounding areas and suppliers.
"There is almost zero interaction since we moved all our workers to central residential houses which are also supplemented by other health measures like regular screening. Truck drivers who supply materials from outside the project stay in the trucks and the offloading is done by our employees after thorough fumigations of the trucks," said Lentana.
Medics from Makueni County Referral Hospital and Thwake project medical centre hope the screening will ensure the safety of the over 800 employees.
"We have been complementing what the Kitui and Makueni county governments have been doing. We will do so till we go to the end of this pandemic," Lentana added, hoping that the pandemic ends soon.
Thwake is jointly funded by The African Development Bank and the Kenyan government and is bound to have its initial phase of the project which is construction completed by December 2022.
Other phases include hydroelectric energy production and the third phase on irrigation which aims at irrigating over 40,000 ha of land.
Makueni MP Daniel Maanzo who visited the site said the contractor was in course to ensure Makueni people are cushioned from recurrent food shortages.