Catholic priest who's filling the bellies of street dwellers with hot meals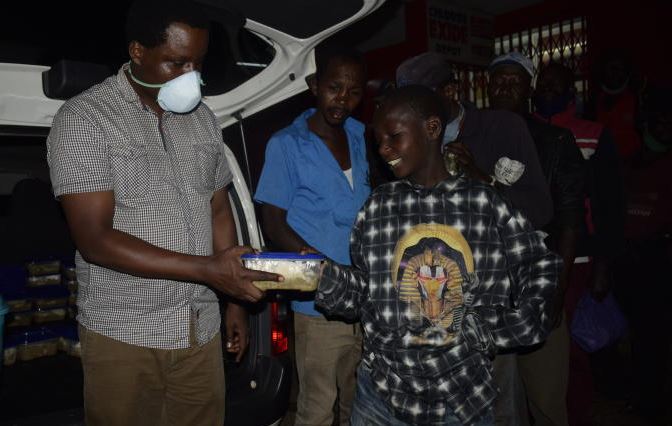 A Catholic priest in Meru has become a beacon of hope for starving street families whose lives have been made intolerable by the ongoing dawn-to-dusk curfew.
Father Barnabas Mugambi was on a routine grocery run at Gakoromone market, Meru on March 29 when he encountered street children gathering rotten vegetables.
The priest then decided to find out whether someone had hired them to collect the leftovers for pigs.
"They told me the hotels they used to rely on for leftovers were closed so they were foraging for rotten tomatoes, carrots and cabbages to cook," said Father Mugambi. "My heart broke."
The 41-year-old priest then asked the three boys and two girls to take him to the place where they usually prepare their meals.
"They took me to a stuffy culvert in Makutano and showed me their 'kitchen', which also doubled up as a 'bedroom'," said Mugambi.
The children later introduced the priest to other members of their family, 16 in number, whom he took to a nearby hotel for lunch.
On the first day he spent Sh7,220 on his new friends.
"They told me that they almost went to sleep hungry the previous night but some police officers gave them two loaves of bread," said Mugambi.
Mugambi had been praying for God's direction on how to utilise his 10 per cent tithe now that church services had been suspended. He believes he has been answered.
As they parted at 4pm, the priest promised to meet them the next day and that is how they continued meeting in hotels for the next 10 days over a hot meal.
People who did not know Mugambi as a priest would criticise him, wondering where he had gotten money to "waste" on 'chokoras'.
Soon, Mugambi who has been a priest for 10 years, realised eating at a hotel had become expensive as the number of his new friends kept increasing.
He decided to make meals at his house for the now 78 street people, cutting his spending to Sh12,700 down from Sh20,000 daily.
He also sought the services of Florence Karimi, a caterer who runs a hotel at the Meru Prison, to help him serve the homeless.
Two police officers could also link him to other street people. Together with the officers, they did food service and kept the peace during feeding.
After this, the number of beneficiaries who range from five to 40 years, rose to 176 in Meru town as the Makutano team rose to 37.
On Tuesdays, Fridays and Sundays, the priest's friends get fruits, which are mostly oranges because they are in season.
Mugambi's journey with the street dwellers has had many challenges, but he has pressed on in his selfless service to the less fortunate.
In the beginning the children would finish their food and take the plates with them. This forced Mugambi to label the plates with serial numbers that corresponded to their names.
"Now they know that if they take the plate there won't be food for them the next day. It has tamed them," said Mugambi.
In partnership with Father Francis Riwa, Mugambi has also been able to provide the beneficiaries of his feeding programme with masks.
The priest has further organised for an orphanage to take in five children who are under the age of eight after they undergo rehabilitation.
He has also promised to help those interested pursue technical courses so that they can gain knowledge and improve their quality of life.