Kitui churches, mosques to remain open amid coronavirus spread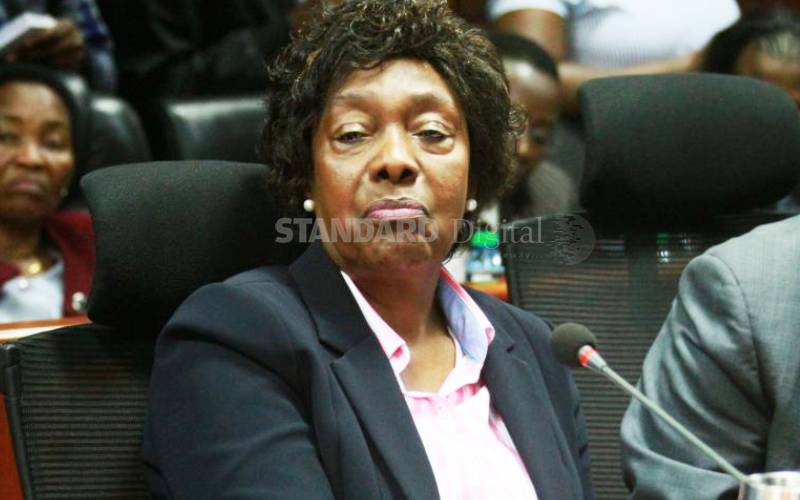 Kitui Governor Charity Ngilu (pictured) and county worship leaders have said they will not suspend worship gatherings.
Their stand follows Health Cabinet Secretary Mutahi Kagwe's suspension on public gatherings to curb coronavirus spread.
The county leaders, instead, say they will put in place safety measures to guard against covid-19 and protect faithful.
Governor Ngilu said, "We must make sure when we go to church, [we sit] six metres apart. Make sure you don't come close."
He said the measures in place will be observed by both the clerics and the faithful.
The clerics said there would be enough sanitisers and running water and soap for those attending church.
Their Muslim counterparts said precautionary measures have been put in place to maintain hygiene.
The mosque toilets and ablution blocks will be closed as they are the hotbed of germ spreading.
The county muslim leaders caucus urged the elderly and those with underlying ailments to stay at home and not attend congregational prayers.
"Anyone experiencing the disease symptoms should avoid coming to the mosque."
The groups urged faithful to only pay attention to officially shared information on the virus to avoid confusion and panic.
The Sheikhs recommended doctors and other health practioners to set up camps at the worship centres to educate residents on coronavirus.
"The association as well calls for minimising of the time spent in mosques. It urges the Imams to make the prayers and the sermons very brief."
Various churches have adjusted their timetable in the wake of the coronavirus pandemic and the directive by the government banning all public gatherings.
Catholic Bishops on Thursday announced that its churches will remain open in the wake of the outbreak of coronavirus.
Through a press statement signed by the Chairman of Kenya Conference of Catholic Bishops, Philip Ndolo, the church stated that it would remain a focal point of prayer.
Columnist Demas Kiprono, in his article on the Standard
today
, said last week, Kenya banned all public gatherings such as political rallies. It is curious then why by Wednesday places of worship were still open, yet evidence from South Korea's River of Grace Church shows how such places can exacerbate the spread of the virus.
On March 14, public gatherings were suspended as State intensified efforts to tackle the global pandemic.
The government suspended all public gatherings with immediate effect as Kenyans came to terms with reality of the coronavirus cases.
The suspension, as announced by Health Cabinet Secretary Mutahi Kagwe, was directed at church services, political rallies, prison visits and inter-school games.
The number of global coronavirus infections shot past 200,000 on Wednesday, as governments across Europe, North America and Asia rolled out tough measures to put the brakes on the ferocious spread of the deadly pandemic.
On March 18, three more cases of coronavirus were confirmed in Kenya bringing the total number of confirmed infections in the country to seven.