Kenyans in dry areas urged to embrace sweet potatoes to beat drought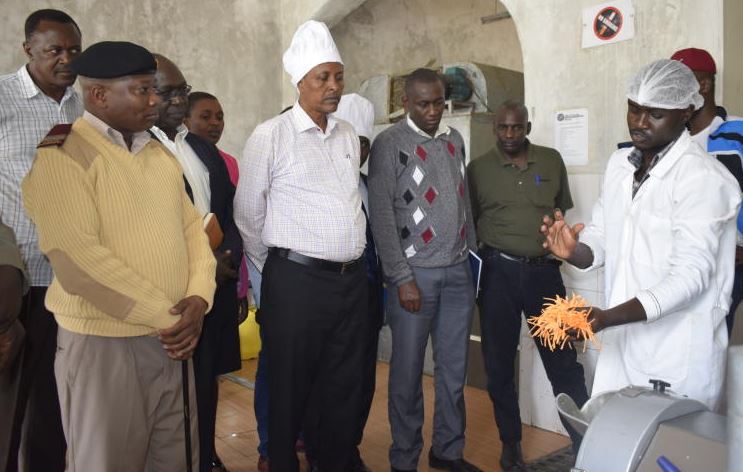 Senior Devolution and Agriculture ministry officials visited Meru Friends Sacco Sweet Potato Processing Factory in Maua town to assess its operations.
The Sacco brings together orange-threshed sweet potato farmers who deliver the product to the factory at up to Sh30 per kilogramme.
The Sh60m factory, set up three years ago by the National Drought Management Authority in partnership with the European Union and the county government, has the capacity to produce 480 loaves of bread per hour from sweat potato flour.
However, it has been producing 1,500 loaves per day.
During Tuesday's visit, Devolution ministry Chief Administrative Secretary Abdul Bahari promised more support for farmers in the drier parts of Meru and other parts of Kenya to grow sweet potatoes to tackle the impact of drought.
Mr Bahari said the drought-tolerant tuber can be used to ensure food security in areas with erratic rainfall.
Bahari said the crop's versatility in harsh weather makes it an ideal means of combating hunger and weaning communities off food handouts as the government moves away from relief food to sending cash directly to hungry families.
"This factory has helped farmers fight hunger. It is a good initiative that needs to be replicated in other areas to benefit more Kenyans. It is a disaster preparedness crop. Importantly, the products are rich in vitamins, minerals and fiber," he said.
Bahari said his team was on a national tour to find novel ways of combating famine in different counties, including through promotion of drought-resistant crops.
The team has visited Wajir, Turkana, Marsabit and Laikipia.
Meru Governor Kiraitu Murungi said 15 out of 45 wards in the county are either arid or semi-arid.