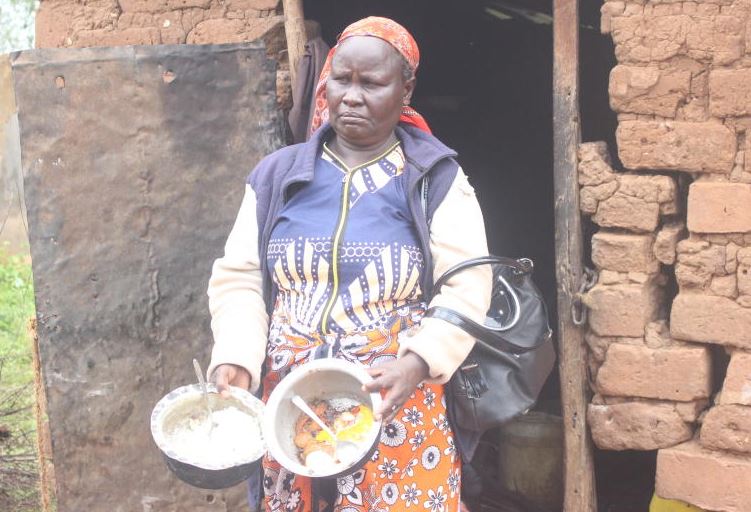 Police in Machakos have launched a manhunt for a 33-year-old man suspected of killing his mother and niece after a quarrel over a meal of eggs. Ndinda Kaloki, 74, and her granddaughter Faith Mutheu, six, were reportedly hacked to death by Mwanza Kaloki yesterday at their home in Malindi village, about 25 kilometres from Machakos town. The suspect is also reported to have injured his sister-in-law as she tried to intervene in the dispute. His brother, Alfred Mbithi, who is the father of the six-year-old girl, said he found his mother and daughter lying in a pool of blood.
SEE ALSO: Man kills woman over rejection, hangs himself
"They had deep cuts on the head," said Mbithi, who said he was at work when he was informed about the tragedy. "My daughter was still breathing when I arrived. She was lying at my house's corridor. I carried her and took her outside the house and laid her in our compound," Mbithi said of the girl who had just joined nursery school.
Cooking eggs
His elder sister, Rose Ndungwa, said the quarrel between Mwanza and his mother started when he was asked why he was cooking eggs and ugali. "He took a panga (machete) and a piece of wood from the kitchen and slashed our mother to death," Ndungwa said.
SEE ALSO: Murder-suicide: Nakuru jilted lover strangles woman
She said that when her niece tried to defend her grandmother, Mwanza slashed her on the head. "The child was running towards her grandmother when she saw Mwanza attacking her mother," she said.
Goat's leg
She said last year, Mwanzia cut a goat's leg while it was still alive and fed it to dogs. "Mwanza has been a bother to our family. He has not been in good terms with us," she said.
SEE ALSO: Man kills wife in Gilgil
The family has asked the government to take action on the suspect, saying their lives are in danger. They said they did not know when the suspect could strike again. Machakos OCPD Moss Ndiwa said they were searching for the suspect who is still at large. Ndiwa urged the public to assist them in tracking down the suspect.