'Ndombolo' comes to rescue of residents crossing River Athi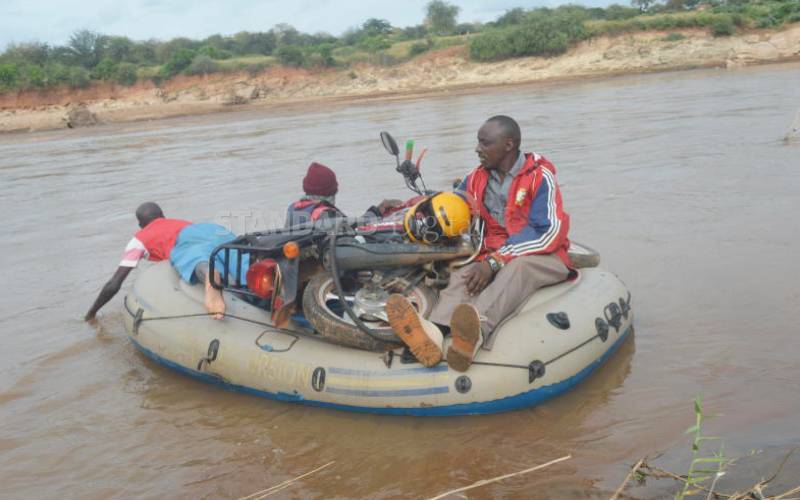 There are only two bridges across River Athi linking Makueni and Kitui counties.
One bridge is at Wamunyu in Machakos County, the other is along Kibwezi-Kitui road about 100km away.
In between, residents of Katilini in Kitui South constituency, and Kitise in Makueni constituency have to cross the crocodile-infested river everyday to trade, go to hospital or just visit relatives and friends.
Their children have to go to school every morning.
With no bridge in sight for the past 18 years, their only saviour has been Ndombolo - a small inflatable boat operated by 'captain' Musyoki Masivo, 54.
None dares wade
No one dares wade through the dangerous waters without this small hand-propelled dinghy and its 'captain' Musyoki alias Kativui. Besides operating the boat, Musyoki also grows vegetables on the banks of River Athi.
Still, crossing the river on Ndombolo is an unnerving experience. The passengers - a maximum of eight - must sit back to back, not just to keep the inflatable boat balanced but also to be on the look-out for crocodiles.
Ferrying livestock makes the crossing even more dangerous because they draw crocodiles to the boat. Some of the animals, like goats, are carried on the boat while others such as cattle wade through the water while tied to the boat.
The Ndombolo captain then lies on his stomach on one end of the boat, and uses his arms for oars, wiggling his bottom and back as he paddles away. Which is how the vessel earned its name.
Musyoki initially bought Ndombolo to help him cross River Athi from Makueni to Kitui to do irrigation farming. Later, moved by the plight of traders and school-going children crossing the river, he decided to be of help.
"I saw this type of vessel in Naivasha and decided to buy one to use to cross the river to do farming. People saw how I was crossing the river with ease and requested me to help them across. Since then, I come here around 6am and leave in the evening," he says.
While making the nearly four-minute journey across the river, Musyoki lies on one end, hooks his feet on a rope tied to the boat, and controls the boat using his hands. To make his work easier, he starts upstream and aims for a certain rock that acts as his dock.
Swift current
When he is near the river bank, his passengers disembark and wade to the banks as Musyoki carries Ndombolo on his shoulders.
There are times when he has missed the 'dock', thanks to swift current, and ended up downstream. Staying calm, he says, saved the day on those occasions.
"There are times when I am crossing with my passengers the water volumes swell and this becomes dangerous. The vessel can also be pricked by logs and get deflated which is dangerous," says Musyoki.
Each trip costs Sh50. Making the journey on a motorcycle costs Sh250. Luggage is charged according to size and shape. On a good day, Musyoki makes between Sh1,500 and Sh2,000.
His clients are as varied as the fare they pay.
When The Standard visited, John Phillip, a student in Makindu on the Makueni side, had been sent home for school fees and had to cross the river to his home in Kitui. He said he found the Sh50 crossing charge expensive.
"I must use it, but it is expensive," he said.
Still, Musyoki is a household name among residents. His exploits range from rescuing people swept away by floods to ferrying expectant women, groaning due to labour pains.
Mutevu Kyusya, says he survived a near-death incident while attempting to cross Athi. Musyoki plucked him from the raging waters. But by then, his bicycle and the bananas he had been carrying had been swept away.
Mueni Tinah, Musyoki's regular client, praises Ndombolo for helping many residents get to hospital. Her only regret is that sometimes with expectant women, delivery time comes knocking in the night, and the rubber dinghy has no light to navigate the waters in the dark.
Michael Mukomi, says many parents from Kitui have enrolled their children in schools on the Makueni side and have to cross Athi to get to school. For them, Ndombolo is not just a boat-it is the future.
Crocodile attacks
Joshua Kioko, a livestock trader, buys livestock from Kitui and sells them at Kitise, and Kathonzweni, two of Makueni's biggest livestock markets. He says he does not know what he would do without Ndombolo.
"To cross this river you have to tie your cow to the boat before boarding. The animal will then follow the boat in the water which is risky. There are times people get attacked by crocodiles that are after the animals they are crossing with," he says.
Makueni MP Dan Maanzo says he is working with Kitui South MP Rachael Kaki to build a bridge at Kikome to connect Kitui and Makueni counties.
However, he would not say when the project would kick off.
Until a bridge is in place, Ndombolo will continue to rule the waters of River Athi and help residents of Katilini and Kitise get on with their daily lives.