Destructive desert locusts now invade Meru and Isiolo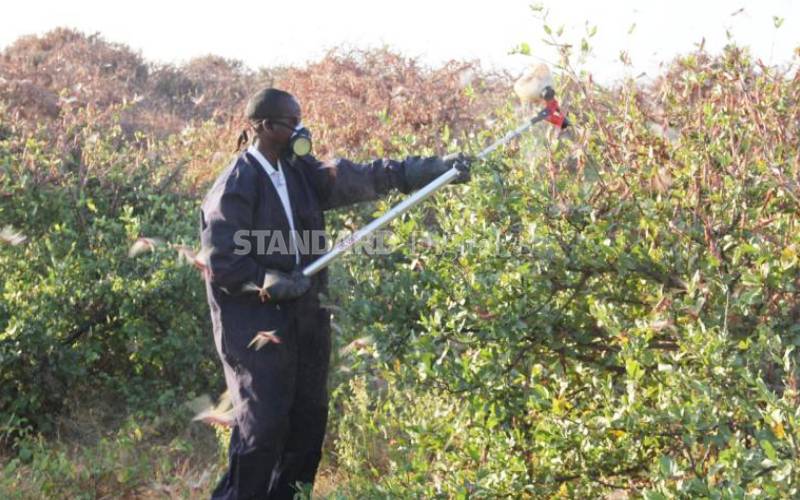 The county government of Meru has admitted there is a locust invasion in some parts of the county.
Speaking on Saturday, Meru Chief of Staff Gideon Kimathi said the dreaded locusts had invaded Meru in areas like Kachuru, which border Isiolo County.
Mr Kachuru told residents a multi-agency team from Meru, Isiolo, Tharaka Nithi and Samburu counties had been created to fight the locusts.
Igembe North MP Maoka Maore also confirmed the invasion in his constituency.
He asked the national government to help counties fight the menace.
"There are locusts in Ndumuru and Kachuru. We plead with national government to disregard county government officers saying there are no locusts in Meru and help avert disaster," said Mr Maore.
Last week, when residents of Ndumuru claimed to have spotted a plague of locusts at a bush near their homes, the county government, through Agriculture Executive Carol Mutiga, denied the claims.
"There is no cause for alarm because county and national government officers have visited Ndumuru and Kinna and have found no desert locusts," said Ms Mutiga.
She has since been forced to change tune after still and video images went viral showing the locusts' invasion in Kachuru.
Elsewhere in Isiolo County, the locusts have reached Oldonyiro division, which borders Laikipia.
It is now feared that five game reserves may have been invaded by the insects.
Locals in Oldonyiro said plagues of locusts were first spotted on Friday afternoon at Kipsing area.
Isiolo County Chief Officer for Agriculture Salad Tutana confirmed the invasion and promised to give updates on the spread of the insects.
He said an aircraft would be dispatched today to conduct an aerial spray of pesticides at Kipsing location and the nearby Mariara GSU camp.
Residents said Kipsing was invaded by the insects through Archers Post in Samburu East.
Others came through Laisamis in Marsabit County, according to the residents. "The locusts are everywhere. Some are moving towards Laikipia North," said Donald Lesimirdana, a Kipsing herder.
Mr Kimathi urged President Uhuru Kenyatta to declare the locust invasion a national disaster.