Chesang widow wants court to review bail terms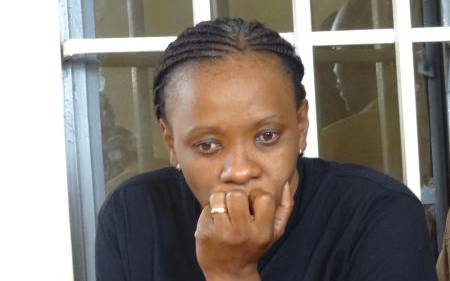 A senior magistrate charged with the murder of her husband now wants the court to revise her bond terms.
Pauline Omungala, who is charged with the murder of her husband Robert Chesang, failed to surrender her passport to the court as earlier directed.
Through her lawyer Assa Nyakundi, Omungala (pictured) yesterday told Justice George Odunga that she was unable to trace her passport and could not, therefore, deposit the said travel document as a pre-condition for a bond.
"The terms that were imposed on my client were reasonable, I must admit. It was called for but, unfortunately for my client, she does not have her passport. The passport was in her house and whoever picked it, we do not know," said Mr Nyakundi.
Nyakundi said efforts by Omungala to apply for a replacement of her passport had been thwarted by investigating the officer, who had allegedly directed the Immigration department to stop such issuance.
Lost passport
"The applicant desires to comply with the orders of the court with regard to bond but has been unable to obtain a replacement of her lost passport from the Department of Immigration despite making an application for a passport, paying and submitting it to the Department of Immigration," he said.
Omungala (above) is also seeking her husband's death certificate, saying her children need it to register in their new schools, obtain National Education Management Information System number as well as obtain other services from government departments.
However, the State prosecution, led by Evelyn Onunga, opposed the application for review of the bond terms, noting the plea was "time-barred".
"The bond terms issued by this court had a time limitation of two months as per the order made on July 20, 2019, a fact that the applicant fails to acknowledge," said the prosecutor.
She went on: "There is an allegation that entry was given by the investigating officer to stop issuance of a new passport to the applicant. That is not true and the allegation is not proved as nothing has been brought to you to support that."
The prosecution also challenged attempts by Omungala to invite the court to issue orders to have her husband's death certificate surrendered to her, saying the matter ought to be dispensed with as a succession cause.
Omungala, who was based in Nyeri, has been charged alongside four others with the murder of her husband.
Chesang was murdered on February 17, 2018, in his house at Moke Gardens in Athi River, Machakos County.
Odunga will rule on the bond review issue on December 11.