Kenyan scholar who restored honour to African religions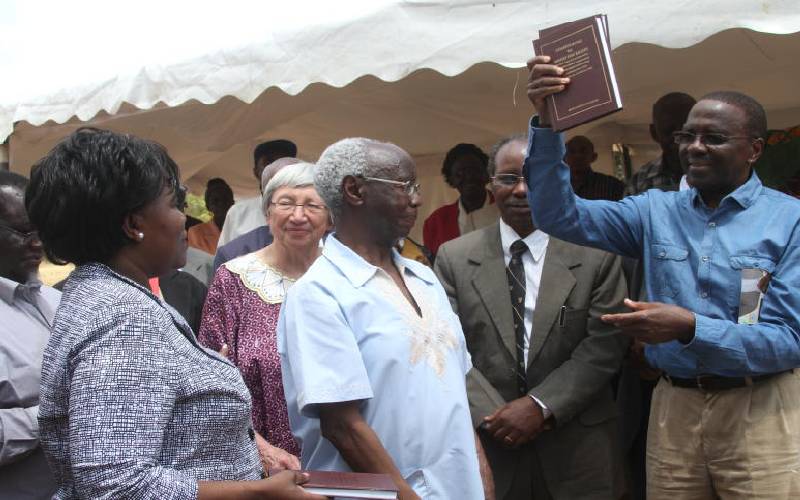 News of the sudden demise of Prof John Mbiti, 88, is a serious blow to many – his family, friends, students, colleagues and acquaintances.
For it is true to say that the professor traversed the academic world like the proverbial colossus, and indeed, left an indelible mark especially in the arena of African religions and philosophy.
There are few who had the rare chance of meeting him in person because for many decades, he resided in Switzerland; but many met him through his writings, more so on religion and philosophy – academic disciplines in which he was the undisputed authority.
Having established himself as an iconic scholar when he released his magna opus, African Religions and Philosophy, way back in 1969, no other researcher could hold a candle to him for the half century that the book has been in existence.
The book received immediate and wide acclaim from students, scholars and researchers in the fields of African religions and philosophy. One of these was the Chairman of East African Educational Publishers (EAEP) Henry Chakava who, upon getting a double first class honours in Literature and Philosophy in 1972, was inspired to research on his PhD in African Philosophy by Mbiti's book and Mbiti's subsequent public lecture at University of Nairobi's Taifa Hall.
revered him
This however did not happen, since Dr Chakava was poached by the then Heinemann East Africa (the predecessor of EAEP). Fortunately, Heinemann happened to be the publisher of Prof Mbiti, and hence both continued to interact.
I had the privilege of meeting Prof Mbiti in 2008. He had just arrived from Switzerland, and paid us a visit, accompanied by Prof Kivutha Kibwana. We had been engaging in discussions touching on African religions, philosophy, politics, African languages and other social matters.
Having interacted with his book at both 'A-Level' and university, and having revered him for his in-depth research and analysis, I was amazed by his humble and gentle nature. He would do more listening than talking. He would seek to learn more from what I said, and he would seek opinion, rather than speak down on me. He also came across as an amiable scholar.
It is during lunch that he indicated that he was working on a Kamba Bible, a translation from Greek. He indicated how exciting and challenging the exercise was, but said it was the right thing because he strongly felt that the then Kamba Bible left a lot to be desired. I remarked how tough the task must have been, but he just grinned amicably and asked me to schedule it for publication, since he was certain it would come to fruition.
As we mourn the professor, all I can say as his publisher is: A gentle, yet gigantic scholar has transitioned into another realm.
A humble, yet deep scholar who restored honour to African religions and opened wide avenues for discussions on Africa, its religions, languages and philosophy has bequeathed unto Africa and beyond remarkable works that will continue to interest scholars for centuries to come.
In Mbiti, Africa got its pride of place on the global scholarship arena, and he will be remembered for his philosophical dictum: I am because we are and, since we are, therefore I am."
Go well, gentle giant.
— The writer is CEO, East African Educational Publishers