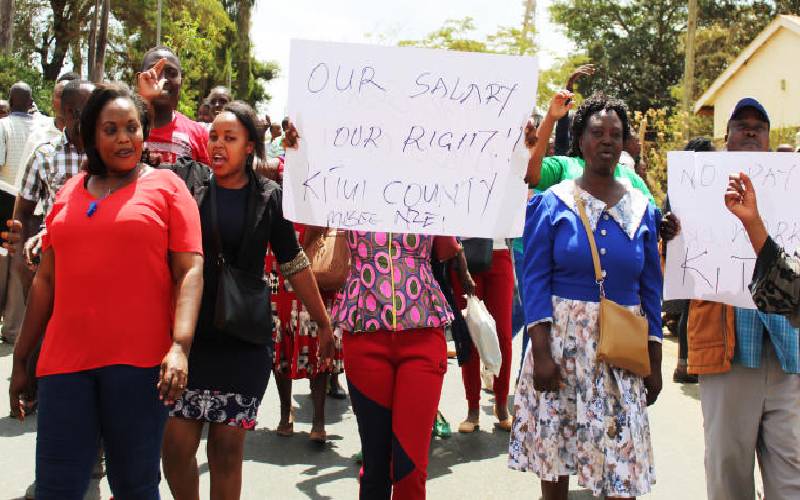 Patients at the Kitui county referral hospital and the other 200 health facilities in eight sub-counties were ordered to leave as a strike by county workers began to bite.
Some medical staff, who spoke to Standard on anonymity because they are not permitted to speak to the press, said no patient would be allowed into the county's health facilities until the strike was over.
The referral hospital's orthopedic ward was the most affected with patients suffering broken limbs made to limp out of the facility.
Among those who left was Kalulu Itumo. He said he had spent three weeks at the hospital after a road accident that left him with a broken limb.
"I was admitted to the hospital some three weeks ago with a broken limb after a road accident. I had more more weeks to go before being discharged, but today I was told to go home or seek medical treatment elsewhere," he said
Itumo was among hundreds of patients who were wheeled out of the various health facilities after the institutions were closed down.
On Monday, the striking workers staged a protest outside Governor Charity Ngilu's office to demand payment of July and August salaries.
The workers, led by the County Government Workers Union officials Kitheka Kwanda (chairman) and Daisy Muli (secretary), accused Ngilu of breaching an earlier agreement to pay the salaries by last week and vowed to continue with the strike until they are paid.
Kwanda said all services in the county will be disrupted and denied that the strike was motivated by county politics.
"Workers have become disillusioned after they failed to receive their salaries as promised by the governor. We are further saddened by the hide-and-seek attitude of the executive," said Kwanda.
Th county secretary, Joshua Chepchieng, pleaded for patience, saying he was not certain when the workers would be paid.
"I will be cheating you and myself if I said I know when the salaries will be paid. However, I plead with you is to be patient and calm as the salaries are processed," he said. [Paul Mutua]