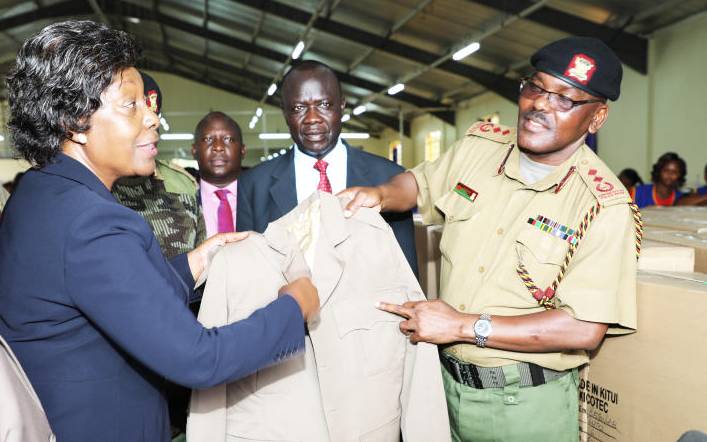 A textile factory yesterday dispatched the first batch of 2,804 uniforms for chiefs and their assistants.
Governor Charity Ngilu, who was speaking at the Kitui County Textile Centre (Kicotec), said the firm had proved it had the capacity to produce quality uniforms for national government administrators.
She praised President Uhuru Kenyatta's announcement that led to the establishment of the newly opened garment-making facility, saying it was a major milestone for the devolved region.
"Today, we mark the beginning of better things coming our way. We cannot sit idle and let this rare opportunity pass us. This textile industry is a bridge to boost the local manufacturing base and lift the county's efforts in actualising our destiny for prosperity," said Mrs Ngilu.
Read More
The official ceremony that was held in Syongila in Kitui Central was attended by Critical Infrastructure Police Unit Commanding Officer Musa Kakawa and County Commissioner John Ondego, among other dignitaries.
Ngilu said the uniforms were made from quality fabrics and added that she would appreciate the State's consideration for more deals.
"The county's manufacturing dream has come true. We invite schools, hospitals, hotels and other organisations to consider us for their clothing needs."
Global economy
The governor said the country's future depended on its citizens' ability to produce goods, noting that the most prosperous global economies rely on exports.
She said Kicotec is equipped with state-of-the-art machines capable of producing a variety of quality garments. She also predicted that the plant would help reduce the cost of school uniforms for Kitui residents.
"We have the capacity to produce 5,000 garments per day. This facility has employed over 400 youths from the county," the governor said.
Mr Kakawa thanked Ngilu for ensuring that Kikotec produced good quality uniforms.
Mr Ondego said the county had reached a milestone in manufacturing and called on leaders to unite to spur growth.
Ngilu said the county was focused on its agenda even as she dismissed her political detractors as enemies of development.
She said her administration was focused on growing the county's economy and realising all-round growth.
"My focus remains on developing the county. I will not spend much time responding to baseless criticism," she said.
The governor said the county was keen to enhance cooperation with the national government to improve the livelihoods of residents.
She cited milestones achieved in sectors such as health, water, youth development and manufacturing, adding that the projects were necessary to build an economically stable county.
"We must realise that development is an agenda for all of us. Leaders must show what they have done for the people before politicking."