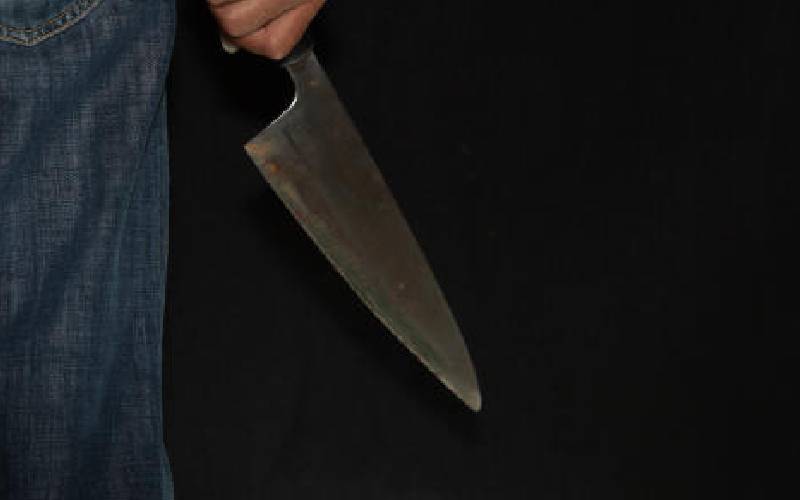 A woman from Gikomora Village in Maragua Sub-County is fighting for her life after she was hacked severally by her brother-in-law.
Felister Njoki was taken to Maragua Level 4 Hospital while unconscious.
She was slashed severely with a panga by Patrick Mungai, a pastor with the Seventh Day Adventist Church.
Villagers were alerted by screams of Njoki when the pastor woke up and started slashing her.
Read More
Following a domestic row between the two, residents alleged that Mungai who stays in Nairobi on Monday made a call to one of his sons informing him he will kill his mother and her child once he arrives..
The son alerted his mother, forcing her to flee their home before Mungai arrived.
A resident who sought anonymity said when Mungai woke up he armed himself with a panga and descended on Njoki.
"The lady was slashed in the neck, back, hands and the head. By the time we arrived at the scene we found her lying in a pool of blood. We could not believe the pastor could do such a thing."
The villagers said Mungai, who is at large, had sometime back attempted suicide, adding that lately he appeared depressed.
A doctor at Maragua Hospital, James Gathera, said the woman arrived at the hospital unconscious.
"The lady had deep cuts in various parts of the body and she was admitted. Doctors are monitoring her response to medication. If she will not respond well, she may be transferred to Kenyatta National Hospital," said the doctor
Police in the area launched a manhunt to nab the pastor who vanished after the crime.