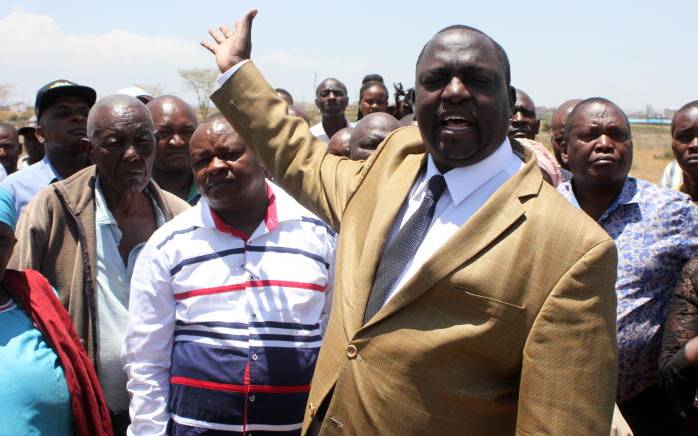 A land dispute between residents and a cement factory is threatening to derail the construction of a container terminus and a dry port in Athi River.
The construction is being undertaken by the State through Kenya Railways. East African Portland Cement company limited (EAPCC) claims to own the land.
But 5,000 locals, under the aegis of an association dubbed Aimi Ma Lukenya Society, have also laid claim to the land.
Title deed
They are opposed to the project. Already, surveyors are marking out the land, in preparation for the construction. But they are doing so under heavy police protection since the locals have vowed to attack them.
The residents have showed to The Standard a title deed proving their ownership. They have also showed the publication a court order dated February 15 2019, halting any construction activity on the land.
According to the society chairperson Julius Mutua, police officers have used excessive force while evicting them from the land.
"We have served police with a court order that stops any developer from conducting activities on the land but, they have defied the order," said Mr Mutua.
Athi-river OCPD Sharma Wario, however, said security agencies stationed at the disputed piece of land were only keeping order.
Mavoko Member of Parliament Patrick Makau called for the involvement of the Director of Criminal Investigations and other government agencies to handle the matter.
He said the interest of the locals is not to derail the Government project, but to ensure justice prevails.
Speaking at Kibini hill in Kajiado East last week, Trade Cabinet Secretary Peter Munya confirmed that there is a deal for the land to be sold to Kenya Railways.
Mr Munya said Portland Cement, which had indicated that it requires at least Sh15 billion to stay afloat, has the potential to stand on its feet again if it gets the cash injection.
"We as the Government are keen on reviving EAPCC and we have carried out due diligence on the existing loopholes leading to the losses it has incurred," said Munya.
"We have already set aside 900 acres of the land for sale to Kenya Railways. It will put up a multi-million inland port in bid a to raise the Sh15 billion required to revive EAPCC."
He confirmed that Kenya Railways has already paid EAPCC Sh1.2 billion as a down payment. The land is valued at Sh5.2 billion.
Munya said that he is aware there are locals claiming to be the rightful owners of the land, and noted that the Government will engage them in negotiations.
Company Chairman Edwin Kinyua, told The Standard on phone that the decision to sell the land to Kenya Railways was made by the cabinet and cannot be reversed.
"EAPCC and Kenya Railways are both parastatals. We will not relent on this because EAPCC must be revived," said Mr Kinyua.