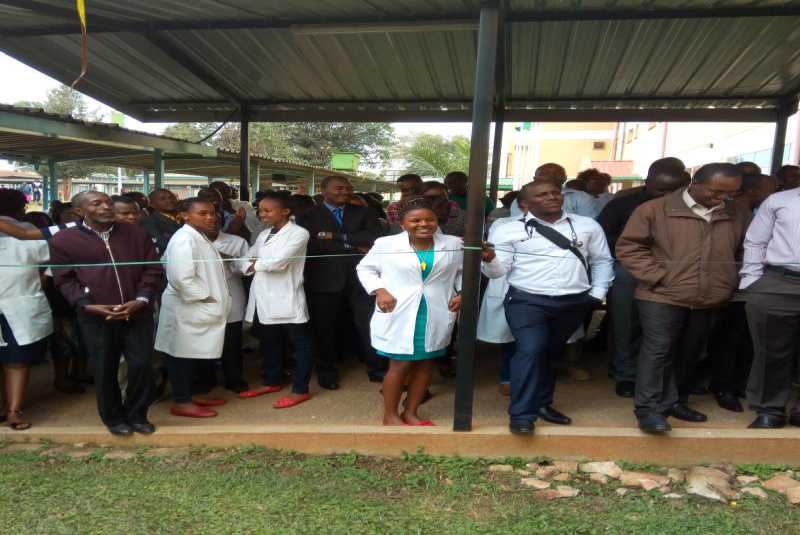 Services at the Embu Level 5 Hospital were paralysed after medics downed tools to demand resignation of the hospital's CEO Moses Njue. The doctors, clinical officers, nurses, laboratory technicians and other cadres congregated outside the CEO's office where they picketed. Kenya National Union of Nurses Branch Secretary Joseph Ngwasi said they would not continue working under Dr Njue and would resume work only when he hands in his resignation letter. "We are gathered here to express our displeasure against Dr Njue who is accused of assaulting a doctor. It's unfortunate that services have stalled due to the CEO, but warned they would resume work only after he resigns. If there are issues with the staff, they should be solved administratively and not through confrontations and physical attacks," said Ngwasi.
SEE ALSO: MP's aide arrested for allegedly defiling 14-year-old girl in toilet
He said doctors are trained to be ethical while dispensing their duties and they would not allow anyone to go against the profession's ethics. Hospital Consultant's forum chairman Renson Gitari said the victim had suffered severe post-traumatic stress disorder in addition to the physical harm suffered as a result of the slap. The medics condemned the alleged assault as primitive and contrary to rights of workers and urged the government to take action against such people. Mary Njoroge, a consultant obstetrician/gynaecologist, alleges that Dr Njue struck her on the face on Thursday. She has already recorded a statement with the police and even written to the Embu County Secretary and Health Chief Officer demanding for action to be taken against Dr Njue.
SEE ALSO: Man in court for defiling daughter
She claims the CEO used "aggressive words" on her in presence of patients and other medics, which embarrassed and traumatized her. "I was arriving to attend to patients at the Gynecology outpatient clinic, Dr Njue in the presence of patients and other officers in the hospital was both verbally and physically aggressive towards me and struck my face. The result of which was both traumatic and embarrassing to me, affecting my ability to perform my duties effectively," she says. However, Dr Njue, who is a former Chief Government Pathologist, denies the allegations and has accused Dr Njoroge of malice. He claims doctors are fighting him for introducing stern measures to stop habitual lateness and abdication of duty. He explained the hospital has a new cloaking system where everyone signs, but the doctors had vowed they would not abide to it.
SEE ALSO: Church elder held for defiling five girls
The CEO said that on the material day, Dr Njoroge, together with most of the doctors arrived past 10:30, while many patients were already at the facility some having arrived at 6am. He said Dr Njoroge was the last to come at around 11am and he asked her to explain. The CEO further challenged Dr Njoroge to produce evidence that he had actually assaulted her.