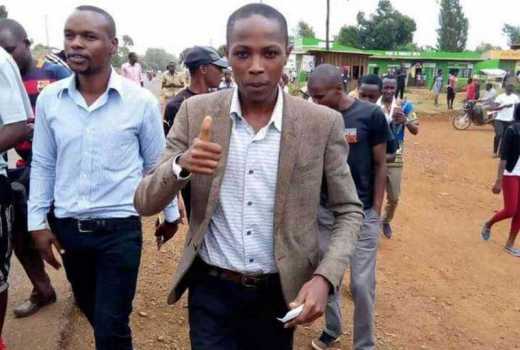 Meru University of Science and Technology students' leader Evans Njoroge was shot at close range, an autopsy has revealed.
Speaking after the two-hour post-mortem on Njoroge's body, family doctor Dr Moses Njue said the shooter had the gun pressed against the head of the deceased before firing. He died instantly.
Instant death
"l am confident that we have done a good job and l believe that there will be justice after the final report is released in two to three weeks' time. It was an extensive surgery and we found that the skull was damaged and it has multiple fractures," Dr Njue said.
The report also reveal that the killer shot Njoroge at the back of the head and the bullet exited through the forehead near the ear causing instant death. The autopsy, led by Chief Government Pathologist Johansen Oduor and Dr Scholastica Kimani, was performed at the Meru Level Five Hospital.
Read More
The preliminary report shows that the student was shot once but due to the closeness of the pistol to his head, the impact was fatal.
Dr Odour, however, did not comment on the matter.
After the operation, hundreds of his fellow students who were gathered at the hospital were allowed to view the body before the family transported it to Longonot town where he will be laid to rest. Njoroge, the Secretary General of the Student Council, was allegedly shot dead by a police officer on Tuesday during a protest over fee increase.
His father, Peter Njoroge, yesterday told Sunday Standard that his son will be buried next week.
The 23-year-old, an outspoken leader, was a fourth year student pursuing a degree in Mathematics and Computer Science. Popularly known as 'Kidero', he led a demonstration against the institution's management that led to his death on February 27. Separately, a postmortem report on a slain 19-year-old man in Murang'a has revealed that he was sprayed with 11 bullets.
Innocent life
The autopsy on Harrison Irungu's body revealed multiple bullet wounds in amont other parts the chest, stomach, liver, legs.
The family called on the government to speed up investigations and bring the culprit to book.
Irungu was gunned down at Mukarara market near Kangema on Saturday last week at around 11pm.
The deceased's mother, Monica Mwihaki, has appealed to Inspector General Joseph Boinnet to intervene. "It is a week after an innocent life was eliminated and no action had been taken against the culprit. I want justice for my son as the police are trying to use all means to hide the evidence," she said.
Kangema OCPD Cosmas Wachang'oka declined to comment saying the DCI had been directed to conduct investigations.