Youths fail to join Kenya Defence Forces due to missing teeth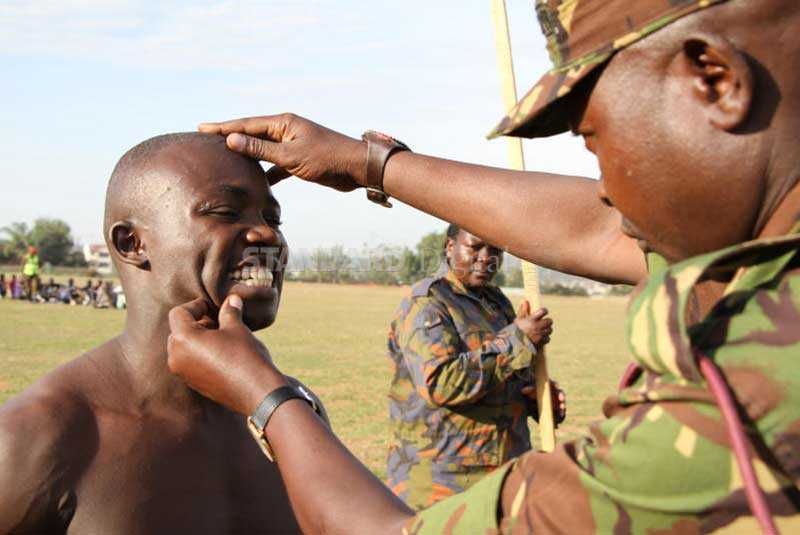 Most of the youths who turned up for the Kenya Defence Forces recruitment in Igembe North, Meru county were turned away due to decayed and missing teeth.
Senior recruiting officer Lieutenant colonel Stephen Kiago said most of the youths who turned up at Murungene Primary School from the three divisions of Laare, Mutuati and Nduriri had either missing teeth or decayed teeth.
He also said they experienced the same at Maua Stadium in Igembe South on Monday.
"About my observation during this recruitment and especially this centre and yesterday in Maua we have a serious case of dental problems. most of the candidates turn up with less teeth and l do not know whether l can attribute this to the chewing of Miraa or the environment, so we cannot really fix a reason why but a big number have serious cases of dental problem," Lt Col Kiago said.
The officer also added that most of those who turned up for the exercise in Nyambene had lower academic grades than what the military required.
In the exercise six candidates who had attained a mean grade of B and above were also rejected from proceeding with the exercise.
After the exercise only eight young men were picked. Females who turned up for the event were told that they were not needed in the exercise.
"We could not subject them to any activity while we knew we could not interview them, l could not have them undergo all this vigorous exercise and then tell them we are not recruiting," said Kiago who is also the officer commanding Mariakani Garrison.
However Igembe North MP Maore Maoka joined the residents who protested over the KDF decision to reject females who turned up.
"The exercise was free and fair as compared to the previous ones where we had witnessed only the candidates from moneyed families recruited. However we protest the idea of not picking the ladies in some areas while they have the merit," Maoka said.