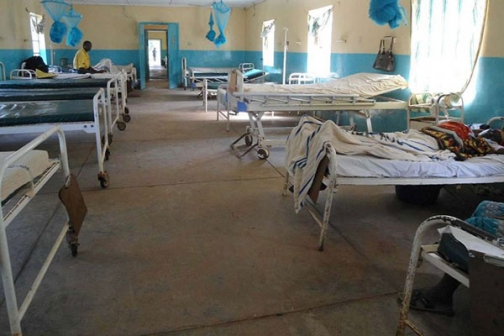 KENYA: Patients and nurses in a Mwingi hospital were shocked when a gunman sneaked into a ward and shot dead another patient in a movie like incident.
Witnesses said the gunman ran out after the shooting as other patients took cover and no arrest was made in the Thursday 3am incident.
The victim identified as Ngandi Malia Musyemi, 27 had been admitted to the hospital with bullet wounds after a carjacking and shooting drama.
He was shot 17 times while on his hospital bed.
Musyemi told police he had been carjacked from Mwingi Town on Wednesday evening by four men armed with pistols.
The men blindfolded him and drove at high speed towards Garissa direction.
And after reaching Sosoma Junction, almost ten kilometers away, the gunmen branched to a bush, pushed him out of the car shot him in the head and ribs and thought he was dead.
Fortunately, he survived even as he was abandoned in a bush. The carjackers drove off thinking Musyemi had died.
And after a short while, Musyemi woke up and dragged himself up to the Mwingi- Garissa Higway and flagged down vehicles while bloody. A number of vehicles ignored him, he told police.
A Good Samaritan spotted him and decided to help him. He informed the Good Samaritan what had happened to him.
The Samaritan drove him up to Ukasi police station - few kilometers away and left the victim there.
The officers from the station visited the scene after taking Musyemi to Mwingi Level 4 Hospital where he was admitted at about 9 pm.
Six hours later, a gunman sneaked into the ward where Musyemi had been admitted and shot him dead on his bed.
Witnesses said three other men stood outside the ward as the gunman went in and pumped 17 bullets into Musyemi to ensure he was dead.
The killer and his accomplices escaped soon after the incident.
Police say they are yet to know the gunmen and the motive behind the shooting incident. A team visited the ward where the shooting happened and collected 17 spent cartridges.
Eastern head of DCI Henry Ondiek said a team had been sent to the area to probe the issue. In 2012, a survivor was shot dead in his bed in Makindu hospital in similar circumstances as he narrated his story to nurses and waited to be transferred to Kenyatta National Hospital. The patient had earlier survived a hacking incident in which his four colleagues were killed.