From tomato to sweet potato farming, the profitable switch of Embu farmer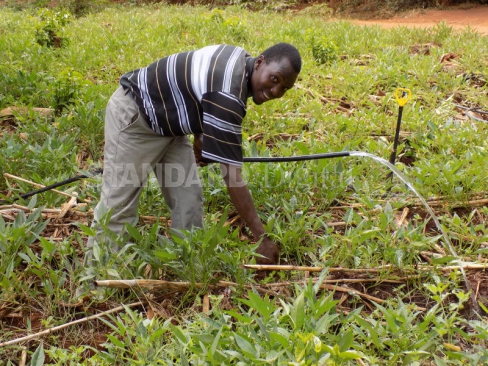 EMBU: When the Smart Harvest team visits, we find Fredrick Nyaga touring his eighth-acre sweet potato farm, changing water sprinklers from place to another. He adds some dry grass under the vines meant for mulching.
"A sweet potato farm needs covering to prevent soil erosion," he says, showing us the effects of growing the crop without covering the soil.
It is this attention to detail that has turned his small piece into a profitable venture.
Nyaga started growing sweet potatoes in 2012 after his tomatoes let him down.
"I love sweet potato farming because it is less labour-intensive compared to a tomato project. With tomatoes, you have to keep spraying because it is prone to attacks from diseases and pests. For sweet potatoes, you need to provide soft soil and you are good to go," he says.
Last season, Nyaga who grows KEMP-9 sweet potato variety, which he harvests three times a year, sold 600 kilos with each kilo fetching Sh200. This variety, according to him is on high demand.
Nyaga, a father of three, owns a half an acre of land in Kawanjara Runyenjes, Embu County. Though he is an electrician by profession, he loves farming.
"I get satisfaction from farming. It is the backbone of my family as I get almost everything from the farm."
When he was growing tomatoes five years ago, he would fetch very little profits.
"Tomatoes are a common crop here so the demand is low and thus, it fetches poor prices. On the other hand, sweet potatoes are on demand all year round."
Before he ventured into sweet potato farming, he did his research to establish the market availability.
"I understood that many supermarket shelves were stocked with vegetables. Very few had sweet potatoes. After that discovery, I invited an agricultural extension officer who advised me on the basics of sweet potato farming. Afterwards, I immediately started growing them."
To increase his knowledge on sweet potato farming, the 39-year-old attends ASK shows and exhibitions, which offer him valuable lessons.
Last season, he raked in Sh120,000, an amount he has never received when he was a tomato farmer. At the moment, his main clients are supermarkets and other business people in Embu County.
Nyaga grows his sweet potatoes in rows spaced at ten to 12 inches apart. He says, "Space is very important and triggers optimum yields."
To ensure his crop is of high quality and popular in the market, he does sufficient watering and mulching. This strategy ensures he gets huge sweet potatoes that enables him get more than 500 kilos per harvest.
Obed Njamura, an agricultural extension officer based in Kyeni Division, Embu County concurs with Nyaga's sentiments. The officer says the crop thrives where there is a lot of water.
He adds that most sweet potatoes diseases affect the roots.
"Fungal leaf spots are common, but a farmer can ignore them as they clear on their own. Fusarium wilt is another common sweet potato disease. To deal with them, a farmer needs to use virus-free transplants and also be keen to isolate planting. Soft soils are also good for sweet potatoes," he says.
Day of judgement for Homa Bay beckons
The Seventh Day Adventists, unlike many other denominations do not believe that the dead go to heaven or hell. Rather, they remain unconscious until the return of Christ for judgment.