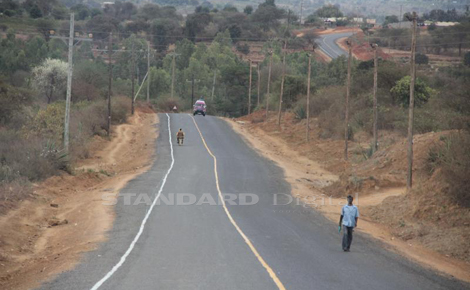 Part of the road Machakos-Thika road constructed within three months. [PHOTO: JENIPHER WACHIE/STANDARD]
MACHAKOS COUNTY: For a county that had been the envy of many Kenyans due to an ambitious development plan spearheaded by Governor Alfred Mutua, political intrigues, disagreements and a corruption investigation have, somewhat, dampened high hopes on the transformation of Machakos County.
The area that is home to a million people is battling food insecurity, lack of water for households, high poverty levels as well as poor infrastructure. With more than half of residents living in urban areas according to Kenya Open Data Survey 2014, leaders face a unique challenge of balancing the sharing of resources between rural areas and towns as well as developing both.
However, bickering has taken centre stage in the last few months, culminating in Mutua stripping his deputy, Bernard Kiala, of functions of County Executive Member for Labour, ICT and Public Service. Deputy Governors have no defined roles, save for functions delegated by their bosses.
Three weeks ago, a threat by CORD to withdraw support for defiant leaders elected on its ticket, had put the future of Mutua as governor in doubt, especially after Kiala accused him of impropriety in the award of tenders and contracts.
These are ominous developments in an area where residents were hoping that, after decades of neglect and little action by the national government, their prayers had been answered through the devolved unit. The question now is whether the local leadership can keep attention on uplifting livelihoods amidst the squabbling.
One of the key focus of the county government is turning rural hamlets into bread baskets through a programme that has distributed free seeds and fertiliser to farmers, as well as efforts to provide clean water. Cultivated land currently stands at only 20 per cent a year, according to figures provided by the county government. Residents have for long depended on relief food shipments.
Now, Mutua and Kiala find themselves being forced to remain together after the Senate failed to impeach him as sought by the Machakos County Assembly, which had overwhelmingly voted to strip him of his position. The bickering between Mutua and Kiala follows a pattern that has began to emerge in which some deputy governors are accused of resorting unconstitutional and unorthodox means to oust their bosses.
Mutua, who is involved in a protracted supremacy contest with Machakos County Senator Johnston Muthama, was at the height of his row with his deputy put on notice by party leader and former vice-president Kalonzo Musyoka over his inclination to the governing Jubilee coalition. His party, Wiper, accuses him of doing the bidding for Jubilee at the expense of CORD. Beneath the politics, accusation and counter-accusations is a spirited bid by either side to control the county's resources. Some people claim that Muthama is just envious of the youthful governor and simply wants to derail him. However, the senator sees the issue differently.
"Mutua is one among the many MPs, governors, Members of County Assembly lined up for disciplinary action. If the party sponsored you, it is obligatory that you uphold its. We shall invoke the Political Parties Act to deal with the defiant governor in the same way CORD is dealing with other errant elected leaders," Muthama told The Standard on Saturday. Asked about his preparedness to quit Wiper, Dr Mutua denied there is bad blood between him and Kalonzo. Instead, he accuses Muthama of instigating disagreement for personal reasons.
I have no differences with my party Wiper. My relationship with the party leader is very cordial and based on mutual respect. I also enjoy a good working relation with other party members both at NEC and at the grassroots. Regarding Muthama, we come from two different schools of thought, and maybe that explains why we never quite get along ever since I declared my candidature on a Wiper ticket," the governor says in response to threats to expel him.
Last month, Kalonzo uncharacteristically warned Mutua he risked ejection if he persisted in advancing the agenda of Jubilee at the expense of Wiper.
Early this week, while stripping Kiala of his executive duties, he threatened to leave Wiper if "pushed to the wall". He accused party leader of failing to mediate between the two even after he sought his help.
Mutua, elected on Wiper ticket, a CORD affiliate, has made no secret his relationship with President Uhuru Kenyatta. In the lead up CORD's Saba Saba rally at Uhuru Park, Dr Mutua openly opposed his party and coalition, saying the rallies to demand a national dialogue with Jubilee were fuelling ethnic tension and hostility. Mutua has previously argued that a referendum at present is ill-advised.
When The Standard on Saturday sought audience with the governor to discuss his Marshall Plan for Machakos County, Mutua, who was on a one-week trip of the UAE, had initially responded through Musyoki, who said a referendum is a waste of resources.
"A referendum is another election. The financial and human capital implications are massive," according to Mutua. He explains the current row between him and Senator Muthama as a result of a difference in strategy and approach to the county's economic lift-off. The governor says: "I have no personal differences with him and have even made attempts towards reconciliation for the sake of our people, but he has sadly always treated me with contempt. Each of us was elected to serve in a different role and thus, each is working towards delivering on their mandate albeit not in the best of circumstances." The county is torn down the middle between supporters of Governor Mutua and Senator Muthama, a wealthy businessman, with the latter commanding fanatical supports in and around Machakos town, while the former has built a strong support base in the lower parts of the county to the north. Muthama explains: "We had credible information (on graft) that we have given to Ethics and Anti-Corruption Commission (EACC) for investigation, and it would have been fair if he responded to issues of integrity raised in the report. For instance, when the county government drew its budget proposals, Mutua disregarded it and set up a confidential account. Nobody questions how it is managed. These are issues we want him to respond to." When questioned by EACC, Mutua denied allegations of graft. He also saw Muthama's hand in the woes. "The complainant to EACC was no other than Machakos Senator Johnstone Muthama who seemed to have received political backing from within the echelons of EACC," Mutua alleges.
It the same line of attack Kiala had adopted to hit out at Mutua. After he survived impeachment in the Senate, Kiala reached out to Mutua to make peace. The governor says of his point of departure with his deputy: "The relationship between my deputy and I is now strictly professional. My disappointment with him is that instead of working hard to serve the people who elected us he has chosen to politic throughout even bashing the same government he serves. All cabinet decisions including policy formulation are done in his presence and therefore it would be extremely insincere for him to pretend not to have been involved."
While Muthama roots for the indigenisation of county job openings, Mutua is liberal as attested by the manner in which bids for infrastructure development have been awarded. A majority of the 11 firms that tendered successfully for the construction of the controversial Makutano-Kithimani Road are from outside the county. The way the road was constructed has elicited all manner of claims ranging from outright corruption to favouriticism, nepotism and abrogation of procurement and disposal of public assets and services.
"The workmanship was shoddy and the people of Machakos should not expect much from the so-called maendeleo chap chap (speed up development)," claims Muthama.
On his part, Machakos Deputy Governor Bernard Kiala, says he will not cave in to intimidation by his boss. "I am looking forward to the creation of county management board and enactment of the proposed amendment to the County Government Act that provides for specific functions of deputy governors. As it is, we are at the mercy of governors," Kiala, who last Friday survived impeachment by the Senate, says.
"There is a lot of corruption in Machakos County. Had I not blown the whistle over Auditor-General report that highlights serious instances financial fiddling, the fraud would not have been revealed," he says.
Kiala denies allegations by Dr Mutua that he (Kiala) was once convicted for theft and that he still has an active case where he faces charges fraud involving Sh100 million. Kiala accuses Mutua of using the media to harass him and paint as a criminal.
"I am going to sue for libel. Just as the truth came up when I was subjected to impeachment, the truth will also come out when the governor responds to charges of character assassination," he says.
Meanwhile, some Machakos residents express fear the political rivalry will harm devolved governance. For Dominic Muoki, a public service vehicle employee, the governor must address allegations of marginalisation and lack of integrity in his government more aggressively. "People support Muthama because he addresses the concerns of the common man. We want the jobs being created to be given to indigenous people. Mutua is accused of inviting people from Nairobi and Central Kenya to take up jobs local youth can do. Muthama, on the other hand, has made it mandatory for businessmen who lease his property in Machakos County to employ local people only," says Muoki. Caroline Ngilu, a teacher at Muvyana Primary School, some 20 kilometres north of Machakos town, sees the controversy as a problem created by the 'big' people.