De Klerk's lessons on selfless leadership and quest for peace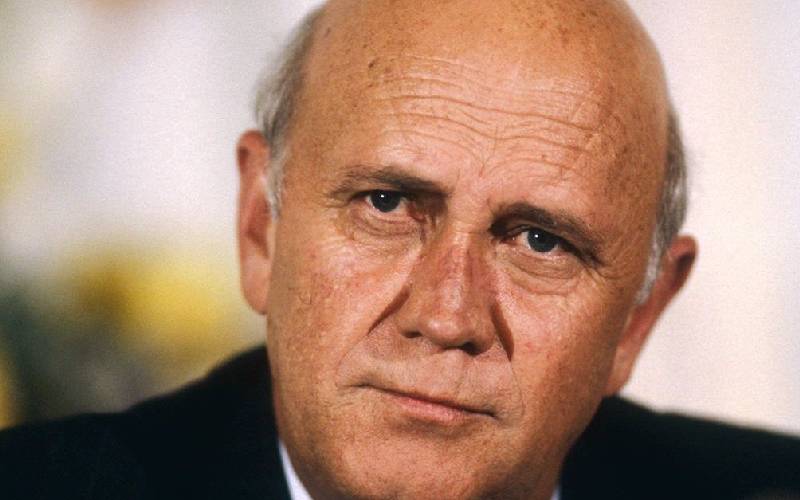 As news trickled in about the death of former South Africa President, Frederik de Klerk, I was on my way to Eldoret. I was to speak at a prayer breakfast for leaders from the North Rift Economic Bloc (NOREB), around the theme: Peace and Cohesion. Indeed, several counties within NOREB have historically suffered serious conflicts – cattle rustling, intertribal wars, and politically instigated violence.
Uasin Gishu Governor Jackson Mandago declared that peace and cohesion is an integral part of the priority areas within the bloc. The death of de Klerk thus stirred reflections on lessons we could learn from him in fostering peace and cohesion.
Apostle James raised some pertinent questions in James 4:1-2, "What causes fights and quarrels among you? Don't they come from your desires that battle within you? You want something but don't get it. You kill and covet, but you cannot have what you want."
The implication here is that the battles often displayed before us, are a manifestation of an inner turmoil of frustrated desires. In psychology this is known as frustration-aggression – the consequence of the inability of an individual to attain their goals or desires. In this conception, frustration always precedes aggression, and aggression is the sure consequence of frustration. This is perhaps truer in politics. One frustrated politician can stir up a whole community or nation to war.
James further argues that much of our frustrations are often the result of either not asking God, or asking with wrong motives. It means those who seek leadership positions, but with wrong motives, are more likely to experience frustration-aggression when their plans do not succeed. They will fight tooth and nail to get the positions. In contrast, most of the men and women who have been agents of peace have always been selfless leaders – Mahatma Gandhi, Martin Luther King Jr, Nelson Mandela, and yes, Fredrick de Klerk.
De Klerk was one of the key white leaders who benefited from apartheid. But when he became President in 1988, de Klerk was intent on ending apartheid, which had caused so much pain among the blacks and had resulted in so much violence. In 1989 he persuaded the whites to vote for the end of apartheid. In 1990, he released Nelson Mandela from 27 years in prison, and in 1994, democratic elections were held in which Mandela became President. In reality, De Klerk selflessly surrendered his privileged position to bring equality and peace in his nation. What drove this?
Just hours after his death, de Klerk foundation released a video in which he said, "Allow me in this last message to share with you the fact that since the early 80s, my views changed completely. It was as if I had a conversion."
Though De Klerk talks about conversion, this most certainly was not a spiritual conversion as Christians would say. Instead, he had a change of heart – from selfishness to selflessness, from domination to subordination. Thus de Klerk confessed in the video, "And in my heart of hearts, I realised that apartheid was wrong. I realised that we had arrived at a place which was morally unjustifiable," he said.
Interestingly, the foundation of Archbishop Desmond Tutu said of de Klerk, "he occupied a historic but difficult space in South Africa". He had seen the necessity of change and "demonstrated the will to act on it."
This is powerful and the implications are profound. To end the culture of violence and foster peace and cohesion in our nation, this is the kind of leadership we must embrace.
We need a selfless leadership whose only focus is to bring national transformation. Like de Klerk, we must commit to go against the grain and deal decisively with tribal apartheid in our country. We must commit to eradicating corruption that impoverishes our people.
And of course, we must refuse to be recruited as merchants of violence. Instead, we must be ambassadors of peace and strongly promote national cohesion. That is what de Klerk did, even as some white extremists called him a traitor who had sold their birthright. But de Klerk was focused on delivering a united South Africa, at the cost of his own presidency.