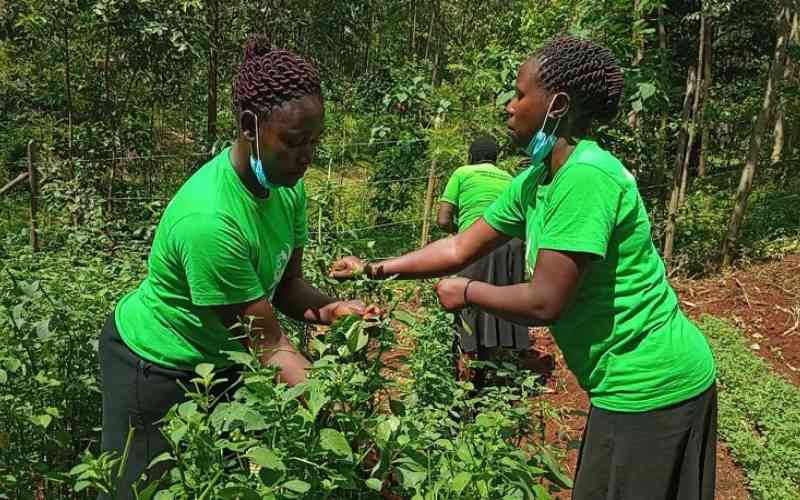 Begging from relatives and at times strangers was the norm for Yusavia Moraa until she discovered a way of fending for herself.
The birth of Nyamira North Women's savings and Credit Cooperative Society was an eye opener for her.
With a small parcel of ancestral land at Nyanderema in Ekerenyo, Moraa was fast oriented into farming of indigenous vegetables.
She started growing Spider Flower which is locally called Sagaa and she has never looked back.
"When I was desperate and didn't know what to do about my situation, my children used to have only one meal a day. But nowadays, they have three meals a day and I can comfortably pay their school fees," Moraa says.
For Alice Moriasi, a farmer from the same locality, her average income from tea and bananas did not excite her as much as proceeds from Sagaa and Managu have done.
"From an eighth of an acre where I grow Sagaa, I earn around Sh7,000 a month. This is something tea or bananas could not give me," Moriasi says.
Such are the stories of 1,600 women who are members of the Nyamira North Women's Sacco which started in 2020.
Enid Charana, the sacco's director says the organisation started by taking up the role National Agricultural and Rural Inclusive Project (NARGP).
At its inception, the farmers used to sell only green vegetables to another organisation that would add value to the produce.
But now, this farmers can do the value addition through the cooperative and sell the products to the market which she says is demanding more indigenous vegetables.
The sacco now has a financial portfolio of around Sh10 million with the members looking into a larger growth that will be anchored on increased production of the horticulture crops.
The sacco has also loaned between Sh10 million and Sh15 million to members, according to the director.
"Already we have our machines for processing the produce and we are looking into having a cold storage and soon, we should be doing great business after doing value addition," Charana says.
As it is, the amount of vegetables the farmers produce is not even half of the amount needed at the market outlet where the sacco signed a contract to supply on behalf of the growers.
"On average, we receive about 1,000 kilogrammes of Sagaa per week; around 800 kilogrammes of Amaranth and 800 kilogrammes of Managu.
"This comes to an average of 2,000 kilogrammes a week, which is not half of the 5,000 kilogrammes required from us per week," says the director.
Lydia Momanyi, the Nyamira County chief officer for Agriculture acknowledges the fact that not many farmers have seen the importance of venturing into commercial growing of indigenous vegetables, reason why the supply may be low.
"Most of our farmers only produce for consumption and they are yet to know that there are markets that can absorb their vegetables if they grow them in large scale," Momanyi says.
"That is why we have increased our extension education so to ensure farmers are reached and told on how to increase productivity for prosperity."
According to Carolyn Mensire, Lake Region Economic Block's Liaison officer in charge of Nyamira County, there are many market outlets for various agricultural produce but the only challenge is that farmers have not organised themselves for such opportunities.
"For instance, the Nyamira North Women Sacco was funded by the Food and Agricultural Organisation through linkage from the LREB," Mensire says.
Many others can be helped but they have to come out strongly with whatever that they are doing so that they can get help."
The main challenge in the region now is over dependence on rain-fed agriculture which affects farmers since the downpour could not be predicted regularly.
However, the organisation is planning to support farmers to grow their crops without much distractions associated with the weather or other factors.
"We are helping the farmers to access technology that they require for them to practice transformation agriculture," Momanyisays.
For the Nyamira North Women, availability of enough land for agriculture could be the only challenge that may limit their aspirations to create more wealth.