Suspected Al Shabaab attack Mandera police station, deputy governor's home
COUNTY_UPPER EASTERN
By C OMBATI | May 17th 2014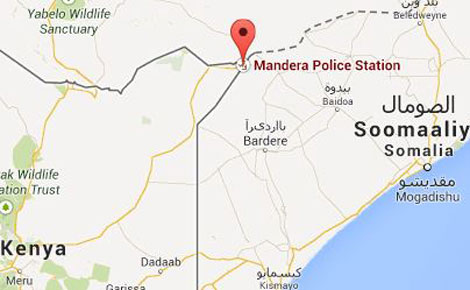 A point pin showing the Friday attack area. MAP|GOOGLE
By CYRUS OMBATI
MANDERA COUNTY: Gunmen believed to be Al Shabaab militia attacked Mandera police stations and one of the homes of the local county boss Friday night but no injury was reported.
The gang is said to have fired several times at three police stations in the area forcing police to take cover before they escaped.
They also attacked one of the homes of the deputy county governor.
Police say they are yet to know who the attackers were and no casualties were reported.
The suspects also hurled a Rocket Propelled Grenade (R.P.G) but no one was injured, police said.
Mandera county police commander Noah Mwivanda said the militants had divided themselves into groups before launching the attacks at Mandera police station, Tawala police station, at the border point, and the private home.
Mandera is at the border of Somalia and has in the last days been under siege from attackers.