She rose from sickness with songs of praise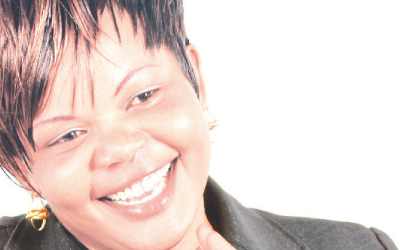 Between 1995-96 Peace Mulu went through intensive medication due to tuberculosis where she was told her chances of survival were slim
By Caroline Nyanga
Fifteen years down the line and she continues to soar as a musician. A wife and pastor with more than 12 albums under her cap, the Ombea adui yako and Ninayo sababu singer says she has more to offer.
No wonder, hardly a year ago she released her latest album Bwana amenipigania, which she describes as inspiring. According to her, the self-produced ten-track album done in Swahili is meant to touch, educate, encourage, reconcile and minister to people out there in order to draw them closer to the kingdom of God.
"My songs are soul oriented based on life struggles besides encouraging and giving hope to the downtrodden," says Peace Mulu.
She says the secret of her music lies in having a proper plan before releasing a song. Mulu has been to many African countries and beyond with her mission to change lives. With albums like Ombea adui yako, Kesho sio yangu, Maundu me vinya, Tunga muvea Yesu evakuvi (Jesus is closer to the born again faithful), Isyitwa ya tesu, Kule yikani, Muvango wa muuo among others, she is determined to make more strides in gospel music.
But then what does she think of the current local gospel generation who have been accused of diluting gospel music for better financial returns?
"I'm not in a position to pass judgment, but we should realise we are serving a living God. Therefore, as role models it is important to be true to our calling. Gospel artistes should strive to release music with serious messages that will touch and change the lives of people for the better," she says.
Mulu's songs are based on personal life struggles. For instance, the songs Ombea adui wako and Ninayo sababu — were as a result of a bout of severe tuberculosis she suffered for close to two years. She recalls the years 1995 and 1996, when she lived in a single-roomed house together with her sister in Nairobi's Huruma Estate. After going through intensive medication she was told her chances of survival were minimal since her lungs had collapsed.
But she chose to live. "I recalled God's word in Psalms 118-17: I shall not die but live to tell what the Lord has done to me," she says. Shortly afterwards she miraculously recovered and went back to hospital for check-up.
Medical miracle
"To the doctor's shock, my lungs were fully intact with no damage and the cough was gone," she says.
Since then Mulu says she has never fallen sick – let alone suffer even from a minor headache. It was then that she decided to compose the song Ninayo sababu ya kumtukuza Bwana that has become a national anthem in most churches. The song is even played in discos and other entertainment joints. This was closely followed by Ombea adui yako. She later became a preacher whose greatest ministry lies in healing the sick.
"I have prayed for many sick people on many occasions free of charge — including those with terminal diseases and they have been healed by God," she says.
Mulu is among the few gospel artistes who have been affiliated to politicians. For instance, at some point during the Referendum campaigns she was contracted to do a song in favour of the Yes team dubbed Tunasema Ndio. This earned her many critics who accused her of taking a stand that was not shared by the churches.
"Jesus mingled with everyone so why should I avoid some people," she says to the accusations.
Born to Joseph Mulu Maithya a member of the Kenya Defence Forces and Beatrice Mumbe – a housewife in Gai Village, Kyuso District in Mwingi, Mulu's early childhood was one of hardship. The fourth born in a family of eight says getting even one meal a day was a challenge. On many occasions they slept hungry.
She recalls walking to school barefoot since her parents could not afford to buy her uniforms and shoes. But despite this she never gave up. At Gai Primary School and Kiome Girls High School she excelled in drama and music. A member of the Sunday school she spent her free time singing gospel songs. It was in 1992 that things took a turn for the better. "My parents had invited the pastor home after a Sunday service," she recalls.
The pastor told her how she would one day be a household name in music. With time Mulu began preaching the word of God to her neighbours. She would also spend time practising different songs. Apart from singing and preaching, Mulu also owns an organisation —Washirika, which ministers to different churches. This has seen her tour various countries within Africa including Congo, Malawi, Botswana, Mozambique and Zambia. The musician who was nominated in the category for Best Traditional Kamba Artiste during the 2010 Groove.
For the Maasai, death is business as usual
The Maasai believe in a single but dualistic god. The Maasai god has two opposing identities, the generous black god (Enkai Na-rok). He is the good, generous and benevolent god personified by wind and rain.