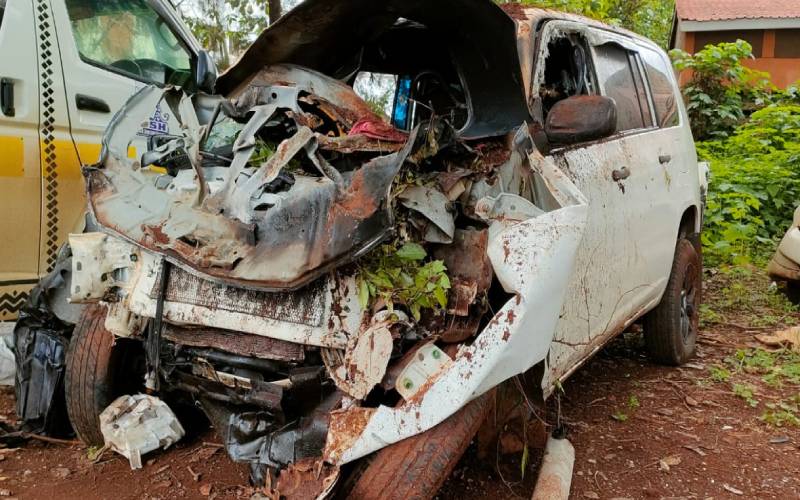 Edwin Mukundi had recently sold his parcel of land and bought a Toyota Probox, which he hoped would help him save on muguka transportation costs.
Mukundi, a man in his late twenties, was a new entrant in the muguka business.
On Monday, May 2, while en route to Nairobi, where he'd secured a muguka market, he was involved in a road accident near Kangaru Secondary School in Manyatta Constituency, Embu County.
Mukundi died on the spot after his Probox collided head-on with a matatu on the Embu-Meru Highway.
Eyewitnesses said the Probox burst into flames after the accident. Firefighters from Embu County, however, managed to extinguish the fire before it could consume the entire vehicle.
Boniface Nyaga, who knew Mukundi, said it was the first time that the deceased was transporting muguka to Nairobi.
"He recently sold a parcel of land and bought the car. He was hoping to use the vehicle to minimise on muguka transportation costs," said Nyaga.
Charles Mita, the driver of the public service vehicle that was involved in a head-on collision with the Probox, said Mukundi was speeding on the wrong lane when the Probox rammed his matatu.
Mita said two of the matatu passengers, who were travelling to Meru, were injured and taken to hospital. The other 12 were transferred to another matatu of the same SACCO known as Mekina.
Embu West Sub-County Police Commander Julius Kyumbure said Mukundi died on the spot, and his body was moved to the Embu Level 5 Hospital morgue.
The Probox and the matatu were towed to Embu Police Station.
Drivers of vehicles that transport khat (miraa) have been spotlighted for speeding on the Meru-Nairobi Highway, endangering the lives of other road users.