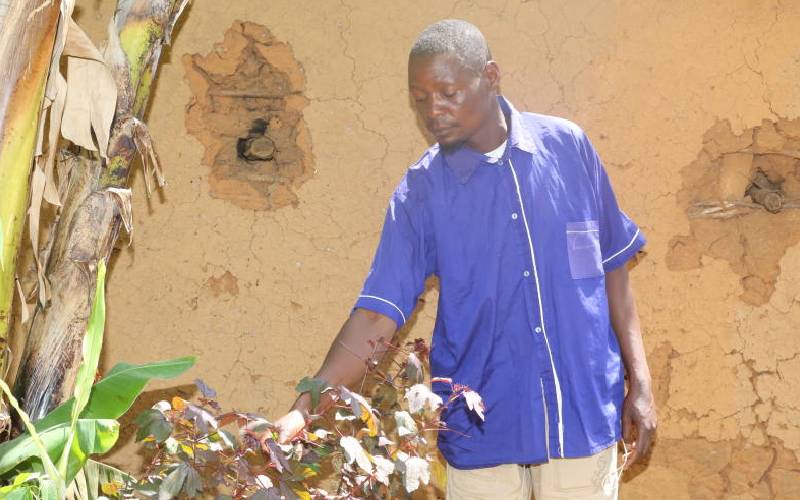 In a bush near abandoned gold mines at Bugondi village in Kakamega South, a man in his late thirties sprinkles a concoction after an accident.
Fredrick Abutsi mutters incoherent words while going about what looks like a ritual that lasts about 30 minutes.
Bottles full of concoctions and other paraphernalia are spread around him. The scene is a neat arrangement of stuff, some of which are known only to Abutsi.
Traditional cleansers like himself have used what they consider mystic, sacred plants from the Kakamega forest to treat illnesses believed to have been caused by evil spirits and cleansing gold mines and miners who survive deaths at the shafts in Kakamega and neighbouring counties.
His inaudible and humble home at Bugondi in Ikolomani Constituency is clustered with herbal plants, lending credence to the herbal cleansing trade he has done for years.
It is rare to find a man of his age involved in traditional cleansing rituals but Abutsi is exceptional.
"I was officially introduced to this work by my late grandfather 21 years ago. He used to cleanse survivors of collapsed gold mines so that they don't get misfortunes again and shafts to appease angry spirits that hover around them. I used to accompany him to forests and along river banks to look for herbs," says Abutsi.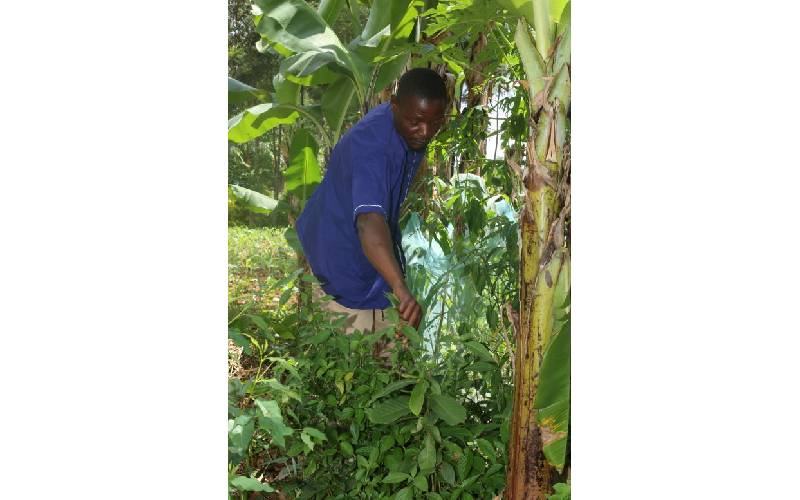 A few minutes after the interview, Abutsi left us in a hush to the neighbouring Shinyalu sub-county to 'cleanse' a young man who survived an accident in a collapsed mine and was eager to be cleansed.
When his grandfather died in 1994, Abutsi could not immediately take over the cleansing rite job that now fend for him as he was perceived as too young for the task that was largely done by people way beyond 60 years.
But before the grandfather died, he had a dream one night.
"I saw myself speaking to spirits of my dead clansmen who showed me different kinds of herbs for curing a host of ailments."
"I went to my grandfather who interpreted it to mean I would take after him but I had to wait until I marry and have children," he says.
"My grandfather later died and when I married and had children at around 2001, I started the 'cleansing' trade."
He has cleansed hundreds of gold mines in western Kenya.
Last week, he cleansed nine people who survived a fatal mining exercise in Ikolomani where a gold mine collapsed claiming the life of one.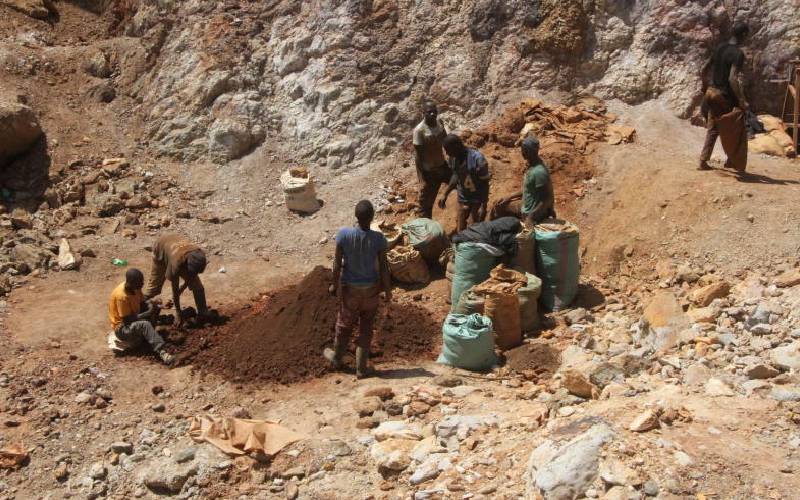 After a tragedy involving deaths, survivors are not allowed to go to their houses, he says.
"This is to prevent transmitting angry spirits to their family. If one flouts the rule, then I will have to extend the rituals to those whom he interacted with or something nasty happens," says the father of three.
Survivors only call him and they are not allowed to set foot in his home even if they need his services.
"If they step at my home they will have brought the angry spirits to me yet I need to prepare a way in advance by invoking my powers to fight such spirits. A call is to keep me alert and focused," he says.
Away from battling spirits in survivors of gold mine accidents, Abutsi also treats people suffering from gonorrhoea, stomach complications and infertility.
He gathers his herbs along River Yala and Kakamega Forest then crushes them on a special stone from the river at a sacred place only known to him.
For the ritual to work, cash money is not allowed, only mobile cash and you have to honour a pledge on the agreed cleansing or a 'treatment service charge'.
"I take deposits of between Sh1,000 to Sh2000 and one has to clear the payment when taking the dose. If you dishonour the deal, things will turn against you so you have no option but to pay," he says.
Those involved in gold mine accidents are given an oral concoction to drink for one week alongside a powder taken for a similar period of time.
The final dose is mixed in bathing water and one must carry some of the water and sprinkle it at the crossroads.
That way, the spirits that cause trouble, 'even death' at the mines 'lose focus' on following the cleansed clients.
Joseph Mukhatia and Justus Khaega, Abutsi's frequent customers and gold mine rescuers say they are pleased with his service.
"I have known Abutsi for many years. He has helped me a lot in cleansing after completing my rescue mission in the gold mine shafts," said Mukhatia.
He recalls being sprinkled with the concoctions when he sought Abutsi's services.
"Abutsi gave me some substance in powder form to lick and smear myself with, it is usually an elaborate activity but believe me it works," said Mukhatia.
The cleansing ritual involves drinking herbs from one cup, washing hands in a basin, licking the powder substance, confessing one's sins and then discarding the clothes worn during the accident.
"He administers certain herbs for drinking, then you lick one in powder form followed by washing of hands then we discard our clothes. At times we burn them," Mukhatia says.
Just like any other job, payments are made through mobile phone transactions to the cleanser. In certain cases, when the rescuers are not among those who were involved in an accident, they are advised to spend the money away from their homestead.
"When I am called to rescue someone from a gold mine shaft, I go on a drinking spree or spend the payment in restaurants since I believe that the money is also connected to bad luck that led to the accident," Khaega adds.
According to World Health Organization (WHO), Environmental and Occupational Health Hazards associated with artisanal and small-scale mining many death accidents occur in mining tunnels due to unstable pillars, substandard supports and waste rock being stored next to pits.