It is mid-morning Friday, April 15, and hundreds of demonstrators from the Indian community have gathered at Shree Devshibhai Dhanji Memorial Hall in Nairobi West.
"Justice for Vanita, justice for the kids," they chant from afar.
Dressed in white T-shirts written: "#JusticeForVanita, We Stand with You", men and women; young and old, are holding Vanita's picture in which she was photographed with her three children.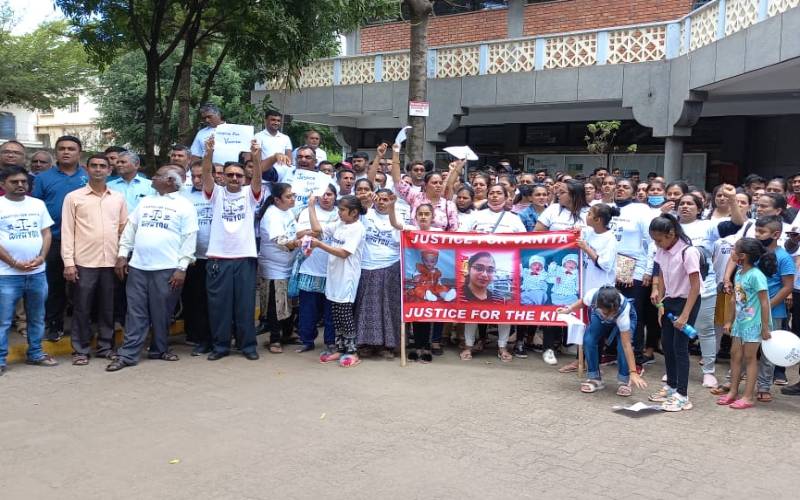 The demonstrators converged 12 days after 27-year-old Vanita Senghani was found dead in her Temple Flats home, Langata on April 3.
Disturbing images on social media showed Vanita's neck tied to window grills, with her feet touching the floor.
"We are all here to seek justice for Vanita. Some people claim she died by suicide. Some of us, however, suspect it wasn't suicide, but murder. We don't know the truth, but we're all here to find justice," Manji Patel told The Standard.
The crowd blamed Samaj, the association that takes care of the Indian community's welfare, for negligence.
Vanita had allegedly filed several complaints to Samaj about domestic violence. The protesters alleged that the association ignored her cries for help.
"We want justice for Vanita, our daughter. We want justice for every woman, every sister who is going through domestic abuse," said Ranjinah Barich.
Nirali Madiola reiterated Barich's concerns.
"No one should take advantage of women. We shouldn't continue being silent as this vulnerable group suffers in marriages and relationships," said Madiola.
Vanita's body was cremated on April 4, a day after her death.
The demonstrators said that not even members of her nuclear family were present during cremation as tradition demands.
Samaj association, which has been adversely mentioned, declined to comment on the matter, saying Vanita's death was under investigation.
The Directorate of Criminal Investigations (DCI) told The Standard that the Homicide department has made progress with the probe.
Vanita Senghani is survived by three children, two of them are 50-day old twins.